"One piece of advice that I share with everyone who asks me about survival prep is shopping in military surplus for most of your gear.
Military surplus you consider should have the highest quality equipment for the lowest possible prices if you know where to look and what to look for…"
More and more people are becoming aware of the need to prepare for survival in the case of disasters, natural or man-made.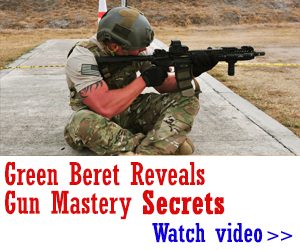 I remember that people thought I was a little "nutty" when I first started preparing survival kits for my house, car, and cabin after leaving the military. Now all those same people come to me for advice on how to do their own survival preps.One piece of advice that I share with everyone who asks me about survival preps is shopping in military surplus for most of your gear. The military surplus will have the highest quality equipment for the lowest possible prices if you know where to look and what to look for.
With that in mind, here is a brief guide to finding the best deals on the highest quality gear from a selection of military surplus when doing your survival preps.Just to mention. In past years a lot of military surplus was carried in physical stores found in many major U.S. cities and an assortment of smaller towns. While a number of those shops may still be around, more and more shop owners have taken their product lines to the web using sites like Amazon and Ebay to sell a wide variety of supplies (though we link to a couple products in this article, if you have a military surplus store in your local town, check them out sometime. You never know what you're going to find or what kind of deals the shop owner may be willing to make that day. CampingSurvival.com is another good site to get to know.)
Finding Military Surplus Clothing
The biggest trick to remember when buying surplus military clothing is to make sure that they are the genuine article. A lot of military surplus stores will also carry big ticket jackets and pants that cost more and perform worse than standard Army issue gear. Remember that no one is going to be judging you on fashion in a survival situation, so you want the genuine article because it will last longer and perform better when you are wet, cold, and so on.When I'm out camping, hiking, or on military maneuvers, the Rothco Long-Sleeve T-Shirt provides comfort in warm and cool weather conditions. What makes the t-shirt special is the comfortable materials combined with the high-quality cuffs and collar that ensure a great fit. I like the camo t-shirt design, but no matter the color, it feels like a second skin when out in the wild.
The Propper BDU Button Fly Trousers are another camping or hiking must, thanks in large part to the reinforced, felled seams. The 60% cotton, 40% polyester blend provides great comfort when I'm camping, hiking, or just working around the home. I also like the adjustable waist tabs for secure fitting and reinforced knee and seat area which holds up year after year.
Military Surplus Tactical Flashlight
Your flashlight is definitely one item that you do not want to skimp out on. There is no need to buy the most expensive one, but be prepared to shell out a bit for something that is robust and reliable. My flashlights are all treated metal, as these are the best way to ensure that their delicate insides will not be damaged. For a survival setting, I go for something small and light, as a big flashlight can get heavy pretty quickly once you have been holding it for a long time.My favorite one is Hyper-V Tactical Flashlight from J5. What I really like about this is apart from the compact size is the incredible 400-lumen output. That provides me with good self-protection and can attract attention from far away. The three settings include high, low, and strobe which can disorient would-be attackers. Plus, it's great that it runs off three AAA batteries, so no need for recharging.
Another attribute is the solid construction which I find handy in case I must use the flashlight as a striking weapon. Plus, the LED light is robust and durable, holding up well against all the bumps, scrapes, and impacts I've put it through.
Tactical Backpack at Military Surplus
One mistake that I find a lot of my friends making with their survival kits is buying fancy camping and hiking backpacks. These are expensive, overly complicated and flimsy for real survival situations. You want to look at standard military issue backpacks. They do not look like much, but they are tough, perfectly designed for storing survival gear and very cheap compared to fancy hiking gear.

I've spend many days outdoors with my Mardington Military Backpack and loved every minute. It's the perfect size to carry my supplies, tent, and sleeping bag for treks out into the woods. The MOLLE webbing lets me attach small items to the outside with no difficulty. Another reason why this backpack has become my favorite is the sturdy, durable, polyester material that is water-resistant and holds plenty of supplies and gear comfortably.
The side gear straps can be cinched down quickly so that the backpack fits more comfortably and the large front zipper pocket provides easy access to the tools I use when camping. This is a great backpack for a three-day hiking adventure.
Boots from Military Surplus
I cannot stress enough the difference between a combat boot and a survival boot. Combat boots are made tough, but they are not designed to be comfortable or warm or to be ideal for some of the challenges that you may face in a survival situation. My survival boots are all heavy duty hiking boots that can be used in the desert too. You want hiking boots because you will need to be moving around in a lot of different situations and terrain. You want them to be heavy so that they are durable, warm and waterproof, and you should not have to worry about walking long distances in them. Here comes my favorite one:The right hiking boots make all the difference when you are out in the wild. Your feet are taking the brunt of the impact, and you'll need them in tip-top shape if you are hiking over several miles of uneven terrain. As an avid hiker, I've been through plenty of boots. The new TR555 from Belleville offers a considerable amount of comfort, durability, and flexibility that have been invaluable on my hiking trips.
First, the boots are crafted with leather and a nylon mesh upper which means that they hold together over time and let my feet breathe. The leather is a great material because it is flexible, breathable, and very durable with minimal maintenance. However, what has really impressed me is the Vibram sole that takes away the sharp impacts from rocks and other hard objects that otherwise would damage my feet.
The TR-1 premium insole also removes the bumps and impacts which make walking over rugged terrain even more comfortable. In addition, I've noticed improved mobility, allowing for surer footing as I've crossed streams, rocky areas, and other types of terrain that otherwise would slow me down considerably. The combination of traction, impact resistance and comfort have really sold me on the TR555 from Belleville.
The "high top" effect is also nice as having it grip above the ankles has provided me with more confidence in the boot itself. Plus, the heel and toe bumpers are deeply serrated which means I have surer footing when having to climb steep angles of terrain. Frankly, the Belleville TR555 Hybrid Hiking Boot is the best I've ever used.

Can You Find A Military Surplus Knife? Yes
Buying a knife for survival is all about finding something that can get the job done and last a long time. Many people assume that the standard issue Air Force or Marine combat knives are the best, but they are wrong. These knives are perfect for combat and will last a few days, but they are not designed for the hard and continuous work of survival. I look for a simple carbon steel knife with a 4 to 5-inch blade, and I skip all the fancy gizmos like compasses or compartments, as you should have this stuff already and it should not be attached to something that you can break or lose.A tactical knife is a useful tool to have when camping or hiking. I've been really impressed by the performance of the ESEE-3MIL-P knife thanks mostly to the well-designed blade that makes it perfect for cutting all types of material. The width of the blade itself adds to the durability while the ergonomic handle provides comfort as I cut apart twigs, slice into cans, and even prepare dinner in the wild.
The molded polymer sheath provides a solid grip, so I have little difficulty in handling the knife. Plus, it sharpens easily, so it stays at the ready when needed.
Sleeping Bag
After spending two tours in Afghanistan, I can say from personal experiences that there are certain items that you want with you all the time. A good sleeping bag is an essential part of survival gear for any mission that lasts overnight. Choosing the right one for your camping needs is just as critical as I found out when going on long patrols when getting proper sleep is vital to staying sharp.
Size of Your Sleeping Bag is Important
You'll need plenty of room inside, so be sure to choose a sleeping bag that lets your body move around at night. You may need to keep items like your clothes and socks inside, so you'll have something warm to wear in the morning.
Temperature Rating
First, you'll need to select a sleeping bag that is temperature rated well below what you expect to encounter while out in the wild. If the lowest temperature is 35F degrees, for example, choose one that is rated at 25F degrees just in case. You'll be thankful for having a comfortable sleeping back when the cold unexpectedly hits.
Good Accessories for Your Sleeping Bag
Your bag should have decent accessories such as a liner, storage sack or stuff sack so you can easily carry it along. A built-in hood is nice, but you can always wear your own, so it is not a necessity.I can tell you from personal experience that having a warm, cozy sleeping bag is a must. A good night's rest is vital to keep you awake and alert during the day.

I go camping a lot during the winter, and my Coleman North Rim Extreme Weather Sleeping Bag has been with me for years. The excellent design, 100% polyester construction and filling, and smart comfort technology have kept me warm and cozy even on the coldest nights. The excellent insulation and smartly designed opening makes getting into the bag easy and removes all the drafts. It's also compact enough to be easily carried.
Plus, on nights that are not so cold, I can unzip the bottom which provides for better ventilation. This is a fantastic sleeping bag for cold winter nights that I can heartily recommend.
Take Your Time and Compare Prices When Shopping for Military Gear
The final piece of advice that I give to my friends when they ask about shopping at a military surplus for their survival gear is to take their time and compare prices. As mentioned, not every piece of equipment may be "military issue" but still carried by military surplus stores due to either it's usefulness as an outdoor survival product or simply because there's a demand for it.About those prices, you can easily walk into one of these stores, buy everything on your survival list, and come out paying ten times what you should have for low-quality gear. When it comes to survival gear at military surplus stores, or even Amazon where private sellers often feature their products, keep in mind that the best gear will be reasonably priced and not flashy. Take the time to really check out each piece of equipment before you buy it, and make sure that you are getting it for a good price.
by John Winger