Bread cooked in a can?  This must be some well kept secret!  Who knew that a coffee can could have such a use? During the times of the Great Depression when everything was used, coffee cans were a way of bread when one was short on space.
For those of you who prefer their crusts cut off of their sandwiches, this is a tried and true method of achieving this. A note of caution: ensure that the can you use does not have the plastic coating inside of the can. This can lead to plastics and chemicals leaching into your bread loaf. You can easily fashion a metal coffee can or even a #10 can to make endless loaves of bread.
 Yeast Bread in a Can
   

2 pckg. active dry yeast
2 tbsp. sugar
1 c. warm water (110 F.)
cornmeal
1 tsp. salt
5 c. all purpose flour
1 1/2 c. warm milk (110 F.)
1/2 tsp. baking soda dissolved in 1 tbls. water
In a large bowl, combine yeast and sugar in the water; let stand 15 minutes or until it begins to rise.
Grease the inside of 3 – 1 lb. metal coffee cans and the underside of their lids.  Sprinkle cans with cornmeal, shaking off the excess.
With electric mixer, gradually beat salt, 3 c. flour, and 1 c. milk to the yeast mixture; adding alternately and beating well.
Add 1/2 tsp. baking soda to 1 tbsp. water and dissolve.  Add this to the beaten mixture.  Beat well.
With mixer or spoon, beat the remaining 1/2 c. milk and about 1 1/2 to 2 c. flour to make a stiff dough that is too sticky to knead.
Spoon enough dough equally into cans, top with lids.  Let rise in a warm place until the lid pops off (about 45 – 60 minutes).
Carefully remove lids.  place cans upright on stove rack and bake at 375 degrees F. for 25-30 minutes until the bread top is golden brown.
Slide out of can to test.  Take loaves out of cans and stand upright on wire rack to cool.
Store airtight and keep at room temperature or in the refrigerator for 4 days.  Freeze for longer storage.
Pumpkin Bread in a Can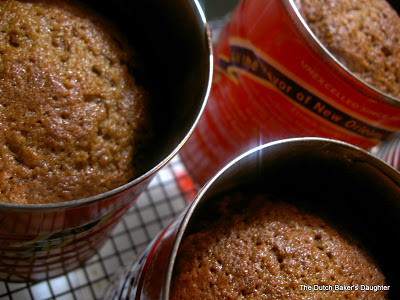 2 c. of cooked prepared pumpkin (or 1 large can of pumpkin, drained)
3 c. sugar
1 c. canola, rapeseed or extra light virgin olive oil
3 eggs
3 c. flour
1 c. raisins
1 c. chopped nuts, optional
1 tsp. each of cloves, allspice, salt, baking powder, baking soda
2 tsp. cinnamon
Preheat over to 35o degrees F.
Grease and flour 3 (13 oz) coffee cans (or 2 standard bread pans).
In a large bowl, mix sugar, oil and add eggs one at a time.  Set this mixture aside.  Sift flour and all spices together.
Add flour mixture and pumpkin alternately to the sugar/oil mixture.
Mix just enough to moisten all the dry ingredients; it's better if you don't over beat the mixture.
Add raisins and nuts.
Pour mixture into the 3 coffee cans or the 2 loaf pans.  Stir a bit when mixture is in the cans to avoid air bubbles.
Cover loosely with foil.  Bake at 350 degrees for 70-80 minutes.  Cool 10 minutes before loosening from the cans or pans.
---
How to Make Pemmican – The Ultimate Survival Food
Invented by the natives of North America,Pemmican was used by Indian scouts as well as early western explorers.These people spent a great deal of time on the go and depended on having portable, high-energy, highly nutritious, and filling foods that would last for long periods of time without refrigeration.