Spring's a comin' and many of you are reorganizing your gear and kits for warm weather on the horizon.  I've written posts before about Survival Fire Kits but I've never listed suggested contents in detail.  In this post I'd like to share with you what I call a Guaranteed Fire Survival Kit.  When it comes to fire, I don't screw around. I want guaranteed fire and I want multiple options to get it – no matter what The Mutha' might throw at me.  This is my current fire kit and one that I believe is fairly thorough.  I've also listed the exact contents just in case you want to build your own or modify your existing fire kit.  The fully assembled kits are also available for those who may be looking for a turn-key solution: Creek's Guaranteed Fire Kit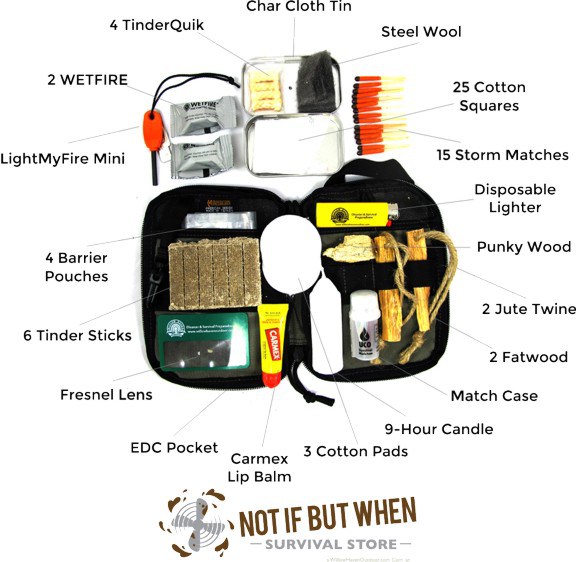 Below is a description of my Guaranteed Survival Fire Kit contents:
QTY 1: Maxpedition EDC Pocket: The entire kit is packed in the Maxpedition EDC pocket. I love Maxpedition gear and this is a great little kit. It's a 5″x7″x.75″ clam shell MOLLE compatible case with tons on interior storage pockets and loops for all kinds of fire implements. It's made from 105-denier water and abrasion resistant ballistic nylon fabric and is built like a little tank. It makes for a great packable fire kit container. It's also triple polyurethane treated for water resistance and has taped interior seams.
QTY 1: Char Cloth Tin: This is a 2 5/16″ x 3 11/16″ x 13/16″ metal tin (Altoids size) with a hole punched in the lid. 100% natural fabrics like cotton can be made into Char Cloth, which is an outstanding fire starting material. When you have a fire, it's important to plan for future fires. This tin allows you to make Char Cloth and plan for future fires. See my article here about how to make char cloth: CREEK SHOWS HOW TO MAKE CHAR CLOTH
QTY 25: 2″x2″ 100% Cotton fabric squares. These can be used to make char cloth using the tin above. These are sealed in a water-proof resealable bag.
QTY 4: Tinder Quik Fire Tinder: These are a compressed, cotton based, fuel impregnated fire tinder. They are also waterproof. Each of these will light with just a spark and will burn for a solid 2 minutes!
QTY 15: UCO Survival Matches: These storm proof matches come in a sealed reusable plastic waterproof match case with 2 replaceable strikers. Each match will burn for 12 seconds. These are like matches on STEROIDS! They are also wind and waterproof!
QTY 1: 9-Hour Candle: Whether using this candle to dry fire tinder or shaving off the wax to be used as a fuel extender, this is an often overlooked piece of fire kit. This sucker will burn for 9 hours!
QTY 1: Light My Fire Mini Fire Steel: Light My Fire Firesteels are my favorite. They are made in Sweden and are a really great piece of kit. This one is good for 1500 strikes and produces sparks that burn up to 5,400 degrees Fahrenheit. This is without a doubt one of the best fire starting tools on the market. It is small, compact and effective. It will great sparks in virtually any weather condition on Planet Earth.
QTY 6: FireStix: These compressed fiber and wax impregnated sticks will light instantly with flame or sparks. They will ignite even when wet and are odorless. Great source of kindling in a pinch.
QTY 2: Fatwood Sticks: This all natural fire starter is one of the best I've used. These are harvested from stumps of pine (fatwood) from the highlands of Mexico. With their 80% pine resin content, these little guys are extremely easy to light and work even when wet. These burn long and hot and will light about any fire you can imagine. They ignite with spark or flame – must shave into shavings to ignite with sparks.
QTY 2: 6″ length of Jute Twine: These pieces of Jute serve as the lanyard for the Fatwood Sticks. Jute is one of the best natural firestarting tinders on Planet Earth. Buff up one of these 6″ Jute lengths to make an instant tinder bundle. Invaluable fire-starter! Will ignite almost instantly with sparks!
QTY 2: WETFIRE CUBES: This is a man-made fire starting tinder that will ignite even while floating in water – I've done it on national television! One cube can burn up to six minutes. I've even used one of these cubes with my Esbit Stove before to make Ramen Noodles.
QTY 1: Solar Fresnel Lens: The sun comes up every day and no fire kit would be complete without at least 1 solar fire starting tool. I've used these little fresnel magnifiers to start fires countless times. They are lightweight and easy to use. Use it on char cloth, deer poop, punky wood, tinder fungus or any other fire tinder that will smolder. These will not produce flame. You'll need to create an ember and blow it into flame using a tinder bundle (like the JUTE TWINE).
QTY 1: Punky Wood: I've hand gathered this punky wood from the forest here at Willow Haven Outdoor. This can be used to create a BIG FAT EMBER with the Fresnel Lens listed above.
QTY 3: Cotton Discs: These cotton pads (make-up removal pads) are perfect for catching a spark or mixing with chap stick, petroleum jelly or pine sap to create a long burning fire tinder.
QTY 1: Steel Wool: Steel wool is another one of those amazing fire tinders. It will smolder with just sparks and burns VERY hot. Use this to blow a tinder bundle into flame. This will ignite even after being dipped in water!
QTY 1: 6″x11″x3″ 5 MIL Barrier Pouch: This heavy duty resealable pouch can be used to keep extra tinder dry or to store more fire starting tools. I can also be used as a water container as well.
QTY 3: 4″x6″x2″ 5 MIL Barrier Pouch: These heavy duty resealable pouches are a perfect added layer of water proof protection for water sensitive fire materials such as cotton disks and punky wood.
QTY 1: Disposable lighter: Uses are obvious
QTY 1: Carmex Lip Balm:  This can be mixed with tinder fibers (Jute/Cotton) to make the flame burn much longer – also known as a fire extender. Click here to read about how I make PET BALLS: Creek's PET BALL Recipe

Hope you've found something here that's useful.  Your turn – what's in YOUR fire kit?
Remember, it's not IF but WHEN,
by Creek