California residents are now facing a mandatory 25 percent cut in their water usage because of drought conditions that have hit the state hard during the last couple of years. As residents are told to slash their water usage, California's water problems may have far reaching consequences that nobody is talking about.
California produces more than half of this Country's fruit and vegetables
California is the number one food and agricultural producer in the United States. Despite the fact that a majority of the State is actually a desert – artificially made into farmland by pumping mass amounts of groundwater into areas that are unsustainable without it – more than half the nation's fruit, nuts and vegetables comes from California farms. If the problem gets much worse, the effects will be felt throughout the rest of the country which now depends on these unsustainable farms for its food.
California is an Unsustainable Desert
The fact is California has always been unsustainable; when you have entire communities that look like lush tropical paradises in the middle of what should be a desert landscape, it shouldn't surprise anyone that the State is running out of water. While some of the problem may have been compounded from the recent drought, most of the state is essentially a desert and it was only a matter of time before California's water problems came crashing into reality.
A look at some of California's Disappearing Reservoirs
This was Lake Oroville on July 20, 2011. (Paul Hames/California Department of Water Resources/Getty Images)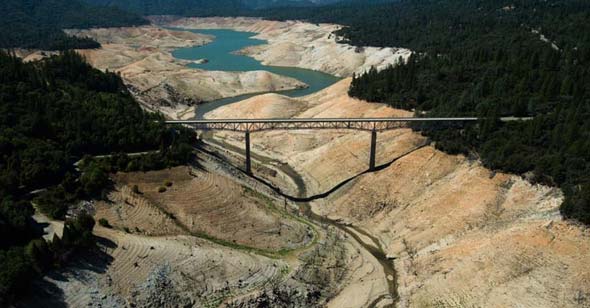 This is Lake Oroville on September 30, 2014 (Image credit: California Department of Water Resources)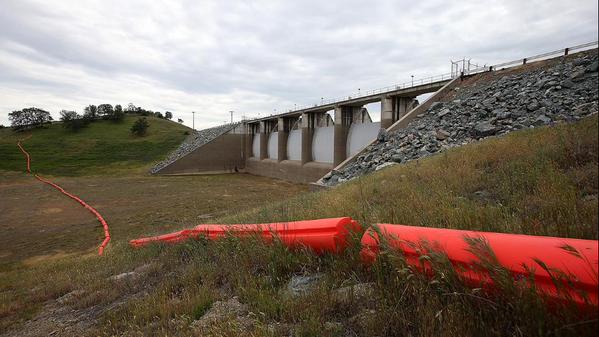 A Year's Supply of Water left in California Reservoirs?
According to NASA, California's water supply is disappearing so quickly that its water reserves may be gone in about a year.
Right now California has about one year of water left in its reservoirs. To make matters worse, farmers have been pumping groundwater from underground aquifers so fast that some areas of the Central Valley are sinking by one foot or more per year. The strategic backup supply is disappearing; once these aquifers run dry, there is no contingency plan for California.

If the California drought continues, what do you think is going to happen to the tens of millions of people who live in the middle of what should be a desert? What happens when the Aquifers stop pumping out water, and the nation loses its number one source of fruits and vegetables?
by Robert Richardson
Source:offgridsurvival.com