EDIT: As I seem to have used the wrong designation for the red dot (TRW-25 vs. the actual, correct TRS-25), I boogered up a few things. Many thanks to Rooikat for picking up my boo-boo. The article has been edited to what is correct. A list of the Bushnell Trophy Red Dot scopes can be found here if you don't feel like reading the article again. 🙂 -TRW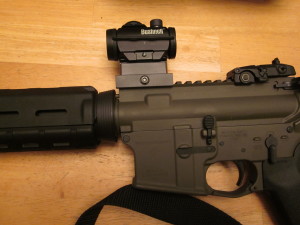 So as I mentioned a couple weeks ago, I replaced the aging ADCO Ranger red dot optic on my AR-15 with a brand new Bushnell TRS-25 red dot. The ADCO was doing its job admirably, but it's an older, klunkier generation of red dot, and the newer ones that are coming down the pike are more battery-efficient, smaller, lighter, and tougher.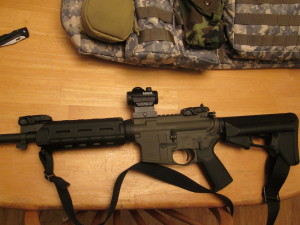 I had considered others, such as the SIG Sauer SigTac mini red dot, but as I compared features, it was clear the Bushnell was a better bang for the buck. Speaking of bucks, the Bushnell will set you back a mere $95. There's a lot of good stuff that comes for that $95:
-Coated lenses for better light transmission
-Long battery life (3000 hours on the #7 brightness setting – That's almost 18 weeks of continuous-on, folks)
-Takes CR2032 batteries, which are readily available at any grocery store. Hell, in a pinch I can steal the ones out of the wife's digital scale. Lord knows she doesn't use it much these days.
-Less than 4oz. That was a biggie for me.
-Comes with a nicely made riser block that brings the optic up to a comfortable level on flat-topped railed rifles and shotguns.
-Can be used on anything that has a Picatinny Rail or Weaver-type base. Rifle, shotgun, handgun.
-Shockproof, waterproof to 10 feet, recoil proof. Or so they say.
-3MOA dot, meaning that the dot covers a 3″ circle at 100 yards, allowing reasonably precise shot placement at range.

-Comes with decent rubber scope covers.
-11-position rheostat that allows different brightness settings.
-Unlimited eye relief, meaning you can put it as close to your eye as possible, or waaaaay out at the end of the barrel – you'll still be able to see through the lenses and use the optic.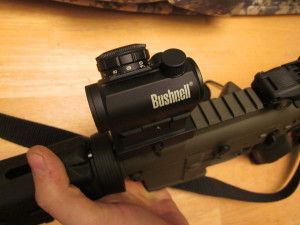 I know many of you are groaning, and I kinda do too when adding battery-powered accessories to my SHTF guns. So my goal was to purchase something that was tough and usable, with readily available batteries (check!), yet not terribly expensive so I don't have to feel bad when I can't get or find batteries anymore and I have to jettison it and rely on the back-up sights. My mindset is that I'd like to have the optics advantage while I can. In a bad situation, any advantage helps, right?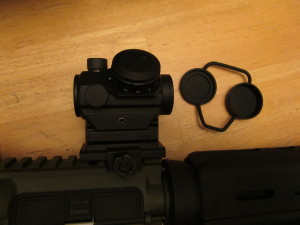 Mounting the red dot was a cinch – the riser block slides onto the Picatinny rail, and gets tightened down with a large thumb screw . Snug it with a wrench if possible. But not TOO tight – you don't want to have the extra stuff hanging on the rifle, useless when the battery supply goes, because you can't find a damn ratchet to loosen the screw. The red dot then mounts onto the riser block via a supplied allen wrench. If you were mounting the TRS-25 onto a handgun, say, you'd probably want to keep the riser block in the parts bin; it's not necessary on a platform like that. With the riser block, the red dot "co-witnesses" the front sight, meaning the red dot aligns with the top of the front sight blade. (I actually use that as a good means to get a new red dot on paper before sighting it in – look through the optic with it on, then adjust the dot using the adjustment turrets until it just rests on top of the front sight blade. Fine-tune from there via live fire.)
The optic comes with a battery, and they are easily changed via a cover that unscrews out of the face of the rheostat. It comes slotted, so you can use a quarter or screwdriver or knife blade to perform this task. Very field-friendly. The battery cover and adjustment turrets feature rubber O-ring gaskets to keep water and junk out of the innards of the scope. Good stuff, smart idea.
At the range, the TRS-25 was a breeze to use, and performed admirably. There was minimal dot "flare", meaning the dot stayed nice and crisp when viewing it when set to the appropriate brightness level. I found that even in direct daylight, the dot set at "6″ was more than bright enough to view on target. The adjustments were crisp, with an audible and tangible "click" when moved. Accuracy was fine, once I snugged everything down.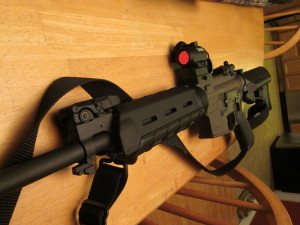 All in all, I am terribly pleased with this purchase. It handily accomplishes everything I need it to do, while weighing practically nothing. I have a couple extra batteries in the grip compartment of my Magpul MOE grip, so I have a bit of backup life once the current battery runs out. I'm good to go with a great product.
What optics do you run on your SHTF guns? Let's hear it!
by Road Warrior