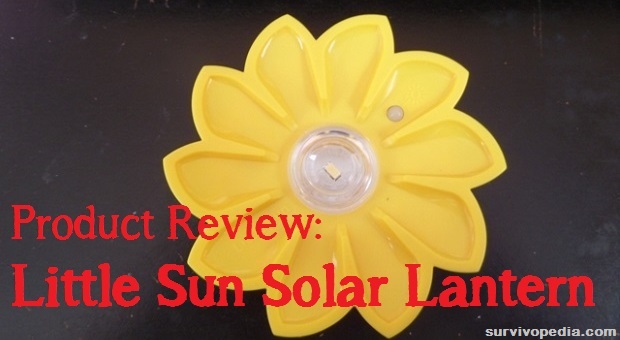 In a post crisis world, being able to obtain light with a low heat signature and low energy usage is going to be very important.
But candle flames, incandescent bulbs, and CFL bulbs produce a good bit of heat, which makes them easy to track on thermal radars and other devices designed to look for people. The Little Sun solar powered LED light offers a good, low heat signature option that also has some other delightful advantages.
Physical Features and Accessories
The Little Sun was designed by Olafur Eliasson and Frederik Ottesen. It has a sunflower shape and measures 4 1/2 inches across by 1 inch high. The 1 inch center area uses a concentric ring lens design to intensify light coming from the LED.
Since Little Sun is very lightweight, you can easily wear it around your neck using the included lanyard. You can buy this device via amazon.com for $34.95 plus shipping (only orders over 35.00 now qualify for free shipping), or direct from eartheasy.com, for $30.00 plus shipping.
In the Field
Once the Little Sun arrives, you need to charge it in full sun for 8 hours before using. After that, 5 hours of full sun will fully charge the internal batteries. The light provided is white and intense, but does not have good travel. It is similar to a size AA battery flashlight in intensity past 1 foot from the LED, however spread is closer to a D sized flashlight.
To use the Little Sun after charging, simply push the small button located above the LED. The first click gives low intensity light, and the second click gives high intensity light. Click a 3rd time to turn the light off.
As long as the solar panel is facing the sun or some other light source, it will charge the batteries. For best results, it is best to charge the batteries with the light off. Here are the results I got when measuring with the light portion of a Soil Master 3 in 1 testing meter:
One of the best things about the Little Sun is its compact size. You can easily pack this handy light into a camping bag, and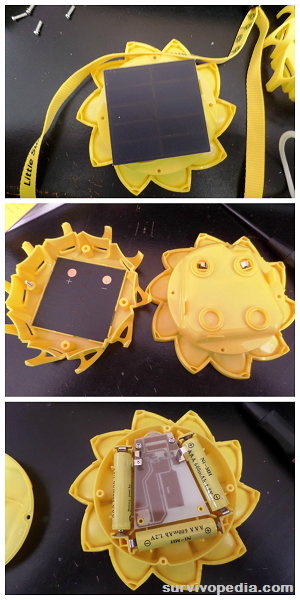 then simply wear it with the solar panel facing outward to charge while you are hiking or engaged in other activities. Other advantages:
Takes a relatively small amount of sunlight to power the device.
Easily replaces a flashlight and offers a hands free design that can be used in endless ways to put light exactly where you want it.
Fairly durable and parts are easy to replace.
If you have a T9 Torx screw driver available, you can get into the compartment where the 3 AAA batteries are located and use the Little Sun as a battery charger. Of all the advantages, I rate this as the best, because you have a fully functional light plus battery charger for a widely available and commonly used battery in a compact, lightweight, attractive package.
Cost effective. The Little Sun's LED will provide several thousand hours of light before wearing out. Hour for hour, this device costs less than flashlights (and batteries), candles, or other light generating devices.
Disadvantages
The greatest disadvantage is the Little Sun is not waterproof. I also noted that the solar panel is not protected from the elements. Other issues:
The solar panel only has two small copper spots that connect it to the battery array. These copper areas can wear out with frequent opening and closing of the device.
Uses ICs which may become disabled during an EMP attack (that being said this device is small enough and versatile enough to warrant placing in a Faraday Cage.
Recommendations for Further Development
Even though the concentric lens is a good approach to magnifying light power, I would recommend finding some way to add a mirror reflector to the LED chamber. I also recommend:
Making the design waterproof.
Square off the shape and enlarge the solar panel to accommodate 4 rechargeable batteries.
Use camouflage colors to make the unit less visible when wearing in the woods or other locations during daylight/charging hours.
Put the battery compartment in a place where it is easily accessible.
Use the On/Off button to indicate when the batteries are fully charged.
How It Can Be Used Now
Little Sun can easily be used as a high powered night light or as a flashlight. If you happen to be the kind of person that wakes up in the middle of the night, this device can provide enough light for reading without disturbing others.
It is also ideal for camping, emergencies where the lights go out, and can be used for recharging batteries.
What Makes It Best for Preppers
The Little Sun is perfect for preppers because it offers a very small footprint and versatility. No matter whether you need to charge up batteries or have a source of light that will last for several hours after dark, this device will meet your needs.
If you are looking for multi-purpose devices to shield from an EMP – this one is far better than others on the market.
On a scale of 1 to 10, I give the Little Sun a 9. It has the advantage of versatility and economical usage of power. For a perfect score, I would have preferred a few minor modifications to more easily accommodate removing charged batteries.
It is still a good option for preppers that don't want to carry around hundreds of candles or worry about heat signatures and staying off radar devices.
This article has been written by Carmela Tyrell for Survivopedia. .
About Carmela Tyrell
Carmela Tyrrell is committed to off gridding for survival and every day life. She is currently working on combining vertical container gardening with hydroponics. Tyrrell is also exploring ways to integrate magnetic and solar power generation methods. On any given day, her husband and six cats give thanks that she has not yet blown up the house. You can send Carmela a message at carmela.tyrell [at] survivopedia.com.