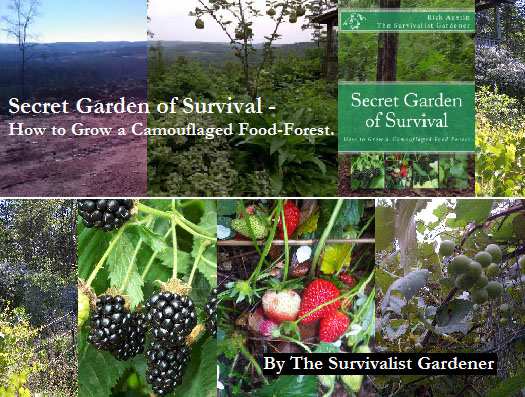 What are you and your family (and livestock, if you have livestock) going to eat when your food stores run out? How will you replenish a year's food storage, and then feed yourself each and every year after that? And how do you keep others from stealing it?Look at these two photos above.
Which one of these is a garden?
Which one produces more food?
Which one will the unprepared hordes attack?
Answer: They are both gardens, but the one on the left produces 5x more food per square foot than the traditional row garden on the right.
Furthermore, the one on the left only has to be planted once in a lifetime, provides food for 30 years; never has to be weeded, never needs fertilizer and never needs pesticide — ever.
And it is disguised to look like overgrown underbrush, so nobody knows you have food growing there.
What it is… In the Secret Garden of Survival we let nature do what nature does best…the way nature has grown plants for millions of years. – The Secret Garden of Survival™ uses what some have called "Permaculture" (or "permanent agriculture"), but it does so on a larger scale and in a more natural way, using what I have termed, "NatureCulture™" . The beauty of this for a prepper, is that you only have to plant once – and then you harvest for a lifetime.
In the Secret Garden of Survival, we use "companion planting", where you put plants together that have a symbiotic relationship – a relationship where each plant supports and benefits from the other. (If you have ever heard of the book Carrots Love Tomatoes, it's like that, only bigger.)
We use plants to naturally attract "good bugs" that will pollinate your plants and that will also prey on and kill the "bad bugs" that you don't want in your garden.
We use plants to keep away four legged pests too. For example, if you plant onions around the base of a fruit tree, mice won't go near the tree in the winter and gird it. Likewise, if you plant daffodils around the drip line of a tree, deer won't go near it.
We plant in "guilds" instead of rows. Guilds are like a mini ecosystem of concentric circles of symbiotic plants planted around the central tree of the guild, such as a fruit or a nut tree. This tall tree ends up producing a canopy of leaves, and shade loving plants grow under the tree. Then outside the shade, shrubs (such as blueberries or blackberries) are planted around your tree in full sun. Then herbs are planted around your shrubs, and then ground cover is planted around your herbs. Since vines naturally grow on trees (there are no trellises in nature), a vine layer (like grapes) grows up your central fruit or nut tree.
Layers of a Guild (Top Down View)
We grow plants in three dimensions – so you can put more plants in the same area, which will significantly increase the amount of food you produce per square foot of garden space. (In fact, you can grow 5X more food per square foot in this type of garden, than you could in a traditional row garden.)
Not only can you grow more plants in less space, but the individual plants grow better this way too! Amazingly, the grape vines that we planted next to, and have growing on, our fruit trees, have always produced far more grapes than those vines that we planted on traditional vineyard trellises.
This type of garden looks wild and over grown – and just like the art of camouflage – it all blends in, because it has no definable shapes or rows. It looks "natural", not man-made.