The rash of inexpensive ARs clogging gun store shelves right now might not be the greatest battle rifles since the , but they can advance well beyond their pay grade with a few mild upgrades that basically undo the cost saving measures installed at the factory.  In addition to cost-saving measures, many entry level ARs will lack a forward assist plunger, and a dust cover.  While the former might never be used by 99% of shooters, the dust cover can come in handy in certain conditions and environments.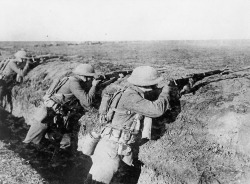 By Doc Montana, a contributing author of SHTFBlog and Survival Cache
The Walmart Rifle
But neither should be considered a deal-breaker if you find a brand-name good deal.  A goal here is to put some dollar numbers on what it would take to bring a budget-priced AR up to speed for real-world challenges.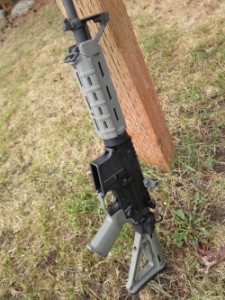 A required assumption here is that a reputable company that builds ARs will make them more affordable though a handful of minor shortcuts rather than some massive oversights in quality.  In fact it might take a doubling or even tripling of cost within the product line to get a functionally better barrel or bolt carrier group.  The difference between a $599 and a $1299 AR by the same company will be in the details across three main areas:
1) Those small parts where a few pennies are saved here and there
2) In finishing work done both by machine and by hand especially the trigger group
3) The number of minutes of quality assurance inspections along with accompanying lower standards of acceptability.
Companies known for making better rifles will not make cheap barrels and bolts.  That's too risky and expensive for them.  Instead they will use the good stuff and cut costs elsewhere.  On the other hand if the AR company is known for inexpensive or poor quality guns with a few or no upper-end firearms in their product catalog, then those better ones are the exception to their rule so upgrading will be, as they say, lipstick on a pig.  Just remember that most folks cannot outshoot their rifles, and don't worry about if or when your round count will overcome the quality of your AR parts since we're not pushing theoretical limits here. Just putting a trustworthy AR in your hands for less money.   Before we get started, know that the fun stuff like optics, red dots, weapons lights, covert carry options, drum mags, bipods and suppressors are all fine goals for the financial future but the first principles are first for a reason.
Picky Begging
So to begin, hand select the best inexpensive AR on the shelf.  Or better yet, if the gun store really wants to make the sale, crack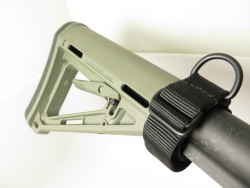 open a few boxes in backstock.  Concentrate on the upper and lower receivers mating, the action of the bolt, and alignment of the gas tube any and rails.  There's no point upgrading if the AR is already damaged goods.  Also avoid fixating on any part that will be swapped out.  Cheap buttstocks might rattle around or require extra force to slice back and forth.  Cheap sights are included to make the rifle work out of the box (a supposed selling point), but since they will soon be tossed into the junk parts box in your shop, don't waste valuable store time on them.
Related: Magpul P-Mag Torture Test
Next, plan on swapping out the trigger, buttstock, handguard, mag, sights (as needed), and make a few additions while you're at it.  Each replacement part has an important upgrade purpose, and each addition will take the AR up a pay grade or two in stature and use.  The new parts can be replace all at once or over time.  The point of this article is to give some focus when there you have a gnawing desire to buy a quality sale-priced new AR.  If considering a used one, all bets are off.
Breaking Glass
Triggers are an easy place to both cut costs and raise them.  Inexpensive ARs will often have worse-than-normal triggers.  Rather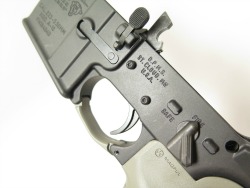 than spending your day trying to polish up the already crippled fire control mechanism, just get one of the newer but affordable drop-in trigger kits.  While not perfect, the inexpensive kits will put you much closer to the cool kids.  One of the $70 ALG triggers would make a good option, or a Mil-spec enhanced trigger group from Rock River.
Butt Out
The buttstock might seem to work fine, even look mil-spec, but cheaper ARs often have brittle plastic mildly adjustable stocks.  For the cost of a few boxes of ammo, the Magpul OEM stock can be had for less than $40 and will get you up to speed where your stock will work better, feel better, and hold up to abuse especially if your need pummel something or someone with your buttstock.
Hands Off
The hard plastic two-piece tubes that form the handguard on budget ARs are heavy, slippery, and often lack any attachment
points for rails, etc.  Again, the sub-$40 Magpul OEM handguard fits the bill and moves you and your rifle into a more productive tactical position.
Black Box
If your AR came with a Magpul Pmag of any generation, then move on.  But if it came with a no-name metal box, then assume the worst and swap it out with a ~$15 Pmag.  Not all GI-style metal mags are created equal, especially when you know that the chief selling point of the rifle it came with was a low price.  The main points of failure for the cheap mags, assuming they even fit and work in the first place, are with minimally functional followers and springs of marginal quality.
Zero Me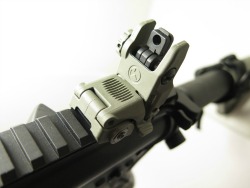 Likely, there will be a standard triangular.  A2 front sight pinned onto the barrel. While the finish work after tumbling out of what forge or press might be lacking, its function will be much the same as any other factory installed front post.  But the rear sight is another matter.  You might be lucky and the rifle came with a polymer Magpul MBUS. If so, great.  If not but a rear sight was included, take it off and feel its heft. Some weight a ton because cheap does mean light. Further, the adjustments might be coarse and limited.
Also Read: Best Survival Carbine
Since the point of the rifle is to land a projectile on a target from a safe distance away, the sighting mechanism is as important as any other critical part of the gun. Might be the best $40 spent thus far.
Nickels and Dimes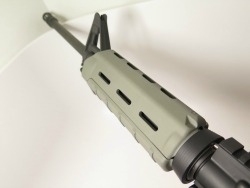 A few additions beyond the basics include an enhanced trigger guard base and Blackhawk single-point sling adapter.  Oh, and a couple of AR tools to become more intimate with your rifle. Start with a couple of punches, and an armorer's tool.  Magpul makes a great enhanced trigger guard for about $9 that will greatly increase the internal space of the trigger guard allowing better and safer operation especially when wearing gloves.  The single-point sling adapter sells for less than $7 and allows you to quickly clip a sling to a spot on the buffer tube, or back on the buttstock.  When placed on the buffer tube, the rifle becomes single-point compatible without an expensive QD mount added on.

Related: DIY Survival Rifle
The last piece of kit to gentrify your AR is to get some Slip2000 gun lube.  I prefer the Slip2000 EWL30 because of its higher viscosity.  Since ARs are known for chain smoking gun lube all day long, the EWL30 puts up the good fight between metal surfaces assuring you that your AR is as healthy as it can be.
Check Please
By adding about $220 to your over-the-counter AR, you will be in great shape to do almost everything anyone buying a budget AR would do.  Given recent AR prices hovering under $600 and some holiday or promotional sales dropping in sight of $500, having a plan to capitalize on the savings but not the functionality will make the decision easier.  Remember, this strategy requires you start with a good foundational AR so keep with the known brands and compare the specifications.  An inexpensive AR from Bob's Basement Budget Builds might be easy on the wallet today, but it will punish you for years to come.
by Doc Montana