Members of London's Kurdish community have staged hunger strikes outside Downing Street to lobby the UK government to provide Iraqi Kurdistan with advanced weaponry to fight militant group Islamic State (IS, formerly ISIS or ISIL).
The strikes are part of a global campaign to encourage national governments to provide more support to the Kurds, who are fighting the IS in the border town of Kobani in Northern Syria.
Those taking part in the protest include supporters of the Kurdish Democratic Union Party (KDUP), a group representing the Kurdish community in Syria, as well as the controversial Kurdistan workers party (PKK), which is listed as a terrorist organization in a number of Western countries.
Protesters say their repeated calls for arms and advanced weaponry have been rejected by the European Union and the United States, with some blaming Turkey for deliberately creating obstacles, for fear of strengthening pro-independence Kurds.
"We are on hunger strike, to help [the] Kurdish community living in Rojava [Syrian Kurdistan], who live on the Turkish side," said Volkan Celebi, an activist participating in the hunger strike.
"They are fighting against ISIS terror and they need weapons. We are demanding heavy weapons and anti-tank missile from UK government and other European governments, not just the UK…We will continue [the] hunger strike until we take it."

Protests have also taken place in France, while marches to raise international awareness of the Kurds' struggle have also gripped San Diego in the US.
The IS has been fighting in Syria since 2012, but made headlines in recent months after extending its front into northern and western Iraq, as well as key areas within Syria. In August, the group claimed it had established a 'caliphate', or Islamic state, in the region.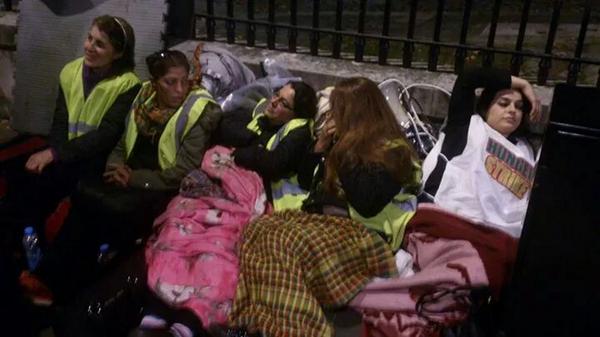 Iraq and Syria's Kurdish communities have been on the frontline in the war against IS, but have routinely called for better military technology and support from the international community.
Reports from the region suggest that Kurdish troops, known as the Peshmerga, have converted old tractors and trucks into 'Mad Max-style' tanks by welding metal plates to the vehicles.
Other reports say Kurdish forces are using outdated weapons designed by the former Soviet Union, including machine guns that are over 50 years old, along with ammunition designed in the 1960s and 70s.
In contrast, IS, which has been called the 'richest terrorist organization' in modern times, is armed with modern weapons, likely supplied to the Iraqi army by the US.
However, a number of Western countries have agreed to train the Peshmerga fighters, including Germany, France and the US, which will provide hardware and strategic training, the Wall Street Journal reports.