Got zero space? Got zero time? Got wine bottles strewn over the floor after your last drunken fiesta?
Good news – you can "grow" from that!
Urban Leaf has just introduced the "world's smallest gardens" on Kickstarter. The idea is for people who like to "upcycle," grow their own food, but have little space or time.
Bottle gardens are the ultimate indoor gardens for minimalists and people who want "table-to-table" food with the most aesthetically pleasing, enviable kitchen garden to boot. Seriously, when you want food just "throw back a bottle."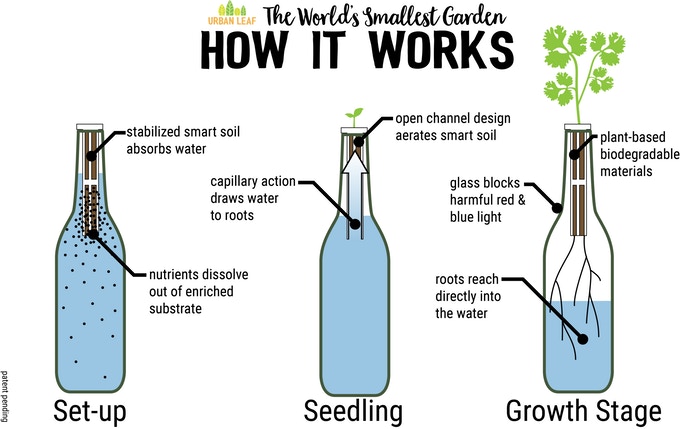 Green Matters reports:
Whether you're a lettuce lover, buddy of bok choy, basil baby, or cheerer of cherry tomatoes, Urban Leaf has got your covered. Just grab one of your empty wine bottles, fill it with water, and put in the World's Smallest Garden—a biodegradable, plastic container with soil and seeds that you simply plug into your bottle like a cork, park the bottle in front of a grow light or sunny window, and let 'er rip.

And consider this: Every meal for the average American travels more than 1,500 miles to get from farm to table. "We're aiming for 15 feet," Urban Leaf's Kickstarter page proclaims. "We're saving food-miles." Also, consider the average American creates 1,500 pounds of (mostly packaging) waste every year. "We're aiming for zero food-packaging," the page explains.

If you tire of bland-tasting food because it was shipped from across the world and sat on a shelf in the store for a few weeks, bottle gardens can solve that issue too. "Having fresh ingredients, not just herbs, is like the difference between black-and-white and color," co-founder Nate Littlewood said. "You can make out the form and structure either way, but the vibrancy of fresh ingredients adds an extra dimension to your cooking."
As I've said before – we live in a post-Fukushima world, so we need all the growing methods we can get, indoor included. While "voting with your dollars" helps keep organic options more available in grocery stores, it doesn't keep organic produce prices from straining your wallet. That is just another great reason to grow food at your windowsill.
The company has now reached thousands more than their fundraising goal of $40,000 and people can now pre-order. PS – we do not have any affiliation, we just think it's a cool idea.
What do you think? Are bottle gardens for you?