Being prepared is more than knowledge, it is also gear. Leave your visions of surviving on just what is around you for
Tom Hanks and his Castaway scenario. Had Mr. Hanks more than a soccer ball and video tapes, he would have been off that island in days, not years. But frankly, this book does not contain advice for deserted island survival. Instead, this tome puts it full weight behind the realities of modern man and woman and their day-to-day lives, jobs, and travels.
By Doc Montana, a contributing author of Survival Cache and SHTFBlog
In thirteen different situations, the survival implications are addressed and the list of necessary gear is spelled out one item at a time. The thirteen "Kits" the authors describe are:
– Purse Survival Kit
– Everyday Survival Kit
– Hip Bag Kit
– Pocket Survival Kit
– Emergency 72-hour Kit
– Urban Bug Out Kit
– Day Hike Kit
– Emergency Car Kit
– Vacation Survival Kit
– Student Survival Kit
– Extreme Cold Weather Kit
– Maritime Survival Kit
– Ultimate Bug Out Kit

The functionality of the chapter layout is enhanced through some organizational elements including every page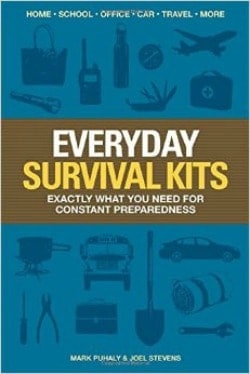 having a bold notation as to what kit is under discussions. Also blue colored text boxes delineate the lists from the block text of advice and explanation making it easy to navigate the words.
Now I fancy myself a bit of a EDC aficionado and I rarely venture forward without some piece of Everyday Carry gear to test out whether a neck knife on a mountain bike ride, or a specialized flashlight on an Atlantic crossing, or a wrist compass on a backcountry ski, or tactical pen for a day at the office actually works. So the first thing I did with this book is turn to the chapters that address the most basic of the basics. The authors' list's cut to the chase with a robbery scenario, then analyze the situation leaving the reader with some takeaways.
Also Read: The Katrina Rifle
So why buy a book of lists when we already know it all anyway? Well, here are three important reasons.  First, the one-stop-shopping place for the lists sure beats the heck out of a stack of printed lists for various adventures and situations. Second, no matter how much you know, you can still know more. Everyday Survival Kits is more than just 13 lists for 13 situations, it is also a philosophical model for building a kit for a particular circumstance. Having stuff is helpful, but knowing the what and why behind any particular item on an EDC list is just as important as its availability. There are also plenty of reminders sprinkled through the text about proper training.
And third, this book makes the perfect entry point into the next level of daily preparedness whether just starting to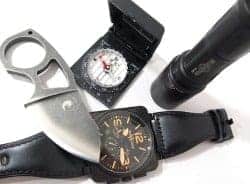 think about such things, or wanting to push the limits of your current EDC.  One of the major advantages of working with the kit lists all in one place is that you can easily overlap them into a custom kit tailored by you for your activity. A drive to a different city for a board meeting is similar but different from a drive to a different location to go for a hike.  Add the element of duration into the mix, stir it up by combining lists, and quickly you have an appropriate kit for your particular journey. Personally, I have many so-called EDC kits.  Not that the E or C changes much, but the D is the variable. Am I going to be skiing all day? Mountain biking? Hiking? Fishing? Floating the river? Hunting? Driving through the night? Around family and kids? Using firearms? Heading into unfamiliar territory? Packing heavy or ultralight? Or packing for multiple adventures across multiple locations for multiple days? No matter what, the One-size-fits-all kit is a plan to fail.
Also Read: Squirrel Gun
Ok, sure you could build a raft out of driftwood and VHS tapes so you and your soccer ball could commit suicide or die trying, but that's not the point. That's the exception. For every poor soul making headlines, there are prepared folks who made it out alive, many with such style and finesse that the brush with death was just a second helping of pulse-raising fun. Or even perhaps not noticed at all just like when you didn't lose control of your car on the icy bridge because you and your four studded snow tires avoided death by driving carefully across the threat. In fact, I guess you consider the whole point of the book is to introduce a greater element of predictable boredom into your life by providing you more command and control over what happens. And if you were me, you would just reinvest the additional command and control into greater adventures and more inner peace.
But wait, there's more!
Everyday Survival Kits also contains some lists within lists. For instance, The Purse Kit also lists a Basic First Aid Kit,
the 72-Hour Kit contains a secondary list for a Basic Hygiene Kit, and the Day Hike Kit includes a sublist for a Basic Fishing Kit.  One of the more interesting chapters for most of us is number 13 titled Ultimate Bug Out Kit. While many of the chapters begin with a news story or common scenario, 13 begins with a first-person account by author Joel Stevens. It wasn't the usual dysfunctional camping trip often masquerading as experience like in other books, but instead Joel began his day a few miles from the Pentagon on September 11, 2001.  And he admits he was totally unprepared with just a Marine Corps camo uniform and a "mis-match of old military gear."
Also Read: Fallkniven A1 Survival Knife Review
Building upon the wisdom that hit him between the eyes that day, Joel embarked on a journey to become prepared
for anything including a terrorist-forced bug out. Pulling no punches, Mark and Joel drop brand names throughout the book. This is not a time to be nice to second-rate gear. Bad or cheap equipment may be worse than no equipment since nothing won't lead you astray or break under your body weight. If you second guess your cheap compass, then why have it in the first place. You will be more intune with other directional signs without it.
There are 37 items listed on the Ultimate Bug Out Kit (UBOK) checklist ranging from said compass to a fully-fueled Bug Out Vehicle. Of course a BOV opens its own can of worms that would require an entire book and not just the chapter section devoted to it here, but experience has taught the authors that the bug out bag is just part of the Bug Out Kit, and the BOK includes transportation.
And of course the lists within lists concept was not forgotten in the UBOK (Ultimate Bug Out Kit). A minor checklist for the Bug Out Bag Tool Kit is included which also highlights the readers need to overlap kits when the S overlaps the fanblades.
As if words weren't enough, the book is amply sprinkled with photographs of gear and plenty of nuggets of survival wisdom for both common situations and those where if this was the last book you bought, it would really be the last book you bought.
Is That Your Final Answer?
Survival is not a multiple choice test with one right choice. It is an essay exam where there are several paths lead to
survival but way more paths lead to failure. Ultimately the test is scored by nature, be that human or mother. When I put my air travel vacation checklist up against the one in the book (chapter 9) there are far more similarities than differences but I do diverge with the authors in a couple areas. For example, the authors divide their list in half with nine specific items in the carry-on bag and eight identified for the checked bag. To highlight the difference between their Vacation Survival Gear Kit List and mine, I'll first start with the difference between carry-on and checked bags.
First, I rarely fly with a checked bag. In fact I do everything in my power to avoid separating myself from my stuff while flying. I've built a TSA-approved Mini-BOB of sorts that contains much of the traditional Bug Out gear sans the guns, knives, and pointy camping equipment. I do carry fire starting tools, compass and GPS (with US and International road map chips), at least two flashlights, paracord, water treatment tablets and collapsible water bladder, ultralight SOL Bivy sack, hooded dark-colored raincoat, windproof hat, Buff, tourniquet, half a dozen Powerbars or the like, my passport, and plenty of good old US 20 dollar bills. And I do mean old. Some of the newer big-face bills look like funny money to those not accustomed to quantities of US cash. In the US, those might be the same people who don't know that New Mexico is a state, and overseas they will be the shopkeepers who don't rely on tourists.
I totally agree with the author's stressing the importance of leaving home with a fully charged cell phone, but the
charger must be kept with the phone since a checked-bag charger is of no use when stuck without luggage. In fact, as the author's point out, there should be a Kit redundant to the carry-on one inside the checked bag, but the carry-on must be complete since it might be your only Kit. I'd suggest an external battery as well if you are serious about your electronics.
One of my real-life examples was on a trip to South Africa. Things fell into chaos at the airport basically leaving us stranded in the middle of the night (click here for story). Hardly a life or death situation, but since the pilot had typhoid fever (not mentioned in the article) and that there was nobody in South Africa authorized to make decisions so we had to read between the limited lines and each of us had to take charge of our own situation. With no flights, no taxis running that late at night, and no services at the airport, the normally welcoming darkness outside the terminal became ominous. Anyone with a large roller-bag was at a significant disadvantage, and crime in that part of the city would be off the chart if there was a chart.

The final chapter, number 14, is an interview with the authors. Putting a face on survival advice is necessary if it is to be trusted. And knowing what makes the authors' tick and what makes them human satisfies more than mere curiosity. It also provides context from which you can interpret beyond the simple contents of the lists that makes this book more than a reference, but actually a book worth reading.
by Doc Montana