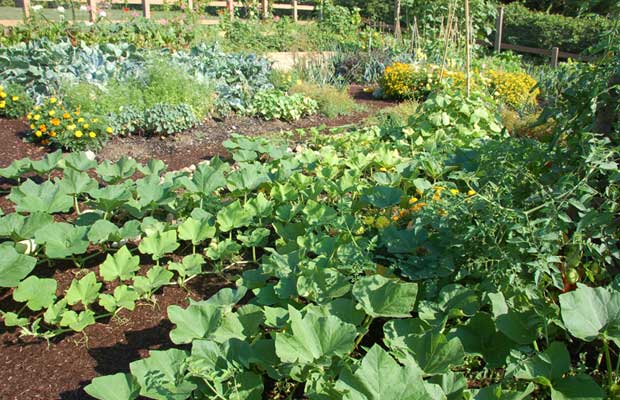 During the difficult days of World War II, victory gardens became popular symbols of frugal living and self-reliance. As the nation's resources became focused on the war effort, families did their part to economize by growing their own vegetables, herbs, and fruit. The victory garden has enjoyed a new lease on life in our own day. In tough economic times, it is more appealing than ever to grow your own food. It can also be an important part of a modern healthy lifestyle. Even if you're on a tight budget, these seven tips can help you get started with a successful victory garden. You'll be on your way to delicious home-grown food before you know it!
1. Start Small
There are many helpful and inspiring books about growing your own vegetables. The Internet is also full of useful information on gardening. It's easy to get too enthusiastic and take on a huge garden project in your very first year. Remember to start small! You can always expand your garden gradually as you become more familiar with the details of growing your own food. Even if you only produce a few rows of potatoes or a handful of tomato plants in the first growing season, you'll have the satisfaction of knowing you're a real gardener. You'll also be saving money and enjoying better nutritional value every time you eat your own home-grown produce.

2. Make the Most of the Available Space
Are you an apartment dweller? Do you live in a condominium or a small townhouse in the city? You might not have a huge backyard to devote to your victory garden. There's no need to worry. A victory garden can be grown in a very small space. Consider getting a small plot in a shared community garden or finding a rooftop garden you can participate in. If you're in a tiny apartment, you can still grow edibles in window boxes or similar containers. Even if you only have a small strip of outside space, you can put food plants in among the existing trees and bushes. You can go online for inspiration in designing your small urban garden.
3. Think About What You Love to Eat
A victory garden may look beautiful and be a fulfilling hobby, but the main point of these gardens is food production! When you plan your garden, think about what sort of foods you like to cook and eat. Once you've started growing them, they will take center stage in your kitchen during the appropriate season each year. If you don't enjoy eating squash, then think twice about planting a whole row of it. The same goes for zucchini, which is notoriously productive in late summer. If you do a lot of creative cooking, think about adding herbs and aromatics to your victory garden to spice up your recipes. The possibilities are almost endless. Take some time to review your favorite recipes and think about what foods you'd most like to grow.
4. Work With the Weather
When you grow local food, you need to pay attention to the local climate. Try looking up your town's USDA hardiness zone and finding out which plants are likely to thrive in your victory garden. As a gardener, you'll be working closely with the different seasons of the year and becoming more sensitive to small changes in weather. If you live in a colder climate, you might want to boost the growing season by starting plants indoors. With the proper lights and warming areas, you can create an early spring inside your own house or shed. By the time spring has sprung outside, you'll have healthy young plants ready to take root in the ground, providing you and your family with delicious food.
5. Take Care of the Soil
If you just dig up a patch of soil in your backyard and put in a handful of seedlings, you may end up with some vegetables in a few months, but you're not going to get the great results you want. Every bit of time and money you invest in preparing the soil will pay back many times during the harvest season. Visit your local garden store for a full selection of compost, mulch, and organic fertilizers. Make sure the ground is thoroughly tilled and aerated. If you're short on time or muscle power, you can rent a mechanical tiller for a weekend and get your victory garden in great shape. Be sure to pay attention to weeds and remove them promptly from your vegetable beds. When the soil is in good condition, your fruits, vegetables, and herbs will be happier and more productive.
6. Think About the Long Run
Gardening can be an exercise in patience. In our modern age, when we're accustomed to getting instant gratification with the click of a mouse or a few words on the phone, it can be hard to wait for months to see the results of our victory garden experiments. Sometimes there are difficulties with pests, sunlight, irrigation, or other variables of outdoor life. Yields can be disappointingly tiny or overwhelmingly large. (Have you ever tried to can a hundred pounds of tomatoes in a small kitchen on a sweltering summer afternoon? At moments like those, a garden that yields just a few puny tomatoes may seem appealing!) Don't get discouraged, and remember that gardening success happens in the long run. Your first year as a victory gardener is just the prelude to a long and happy career of growing your own food.

 7. Enjoy the Benefits
There are many benefits of growing your own vegetables at home. You'll start to enjoy some of them almost immediately: plenty of fresh air and exercise, an increased sensitivity to the changing seasons, and the chance to think about where your food really comes from. As soon as the crops start coming in, you'll save money on your grocery bills each week. The best reward of all — as experienced gardeners know — is the unforgettable taste of home-grown vegetables. Once you've tasted a tomato picked fresh off the vine, you'll never want to go back to grocery store tomatoes. Start a victory garden this year and enjoy the delights of the freshest food you can get!
Source: "10 Tips for Starting a Victory Garden"
Lauren Hill is a new prepper but a long time gardener.  She has been growing and canning for many years and loves sharing her knowledge with others.  Lauren is a contributing author for The Growers Exchange
If you found this article useful, please Vote for The Prepper Journal as a top prepper web site.
Copyright Information This information has been made available by The Prepper Journal. Content on this site (unless the work of a third-party) may be shared freely in digital form, in part or whole, for non-commercial use with a link back to this site crediting the author. All links in articles must remain intact as originally posted in order to be republished. If you would like to be notified of new articles, contests and Prepper news, please sign up for our daily newsletter, follow us on Twitter, or Like Us on Facebook.
by Lauren Hill