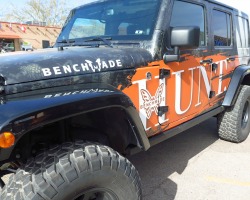 Moab, Utah was once again the host of the famous Jeep Safari which is the largest four-wheel drive event in the world, or so I've read. Basically, that meant that the town of Moab was awash in potential Bug Out Vehicles. While its easy to conjure up interesting bug out scenarios that would make almost any of the off-road people-containers racing around town a viable BOV option. However, the dose of reality arrived at 5pm on the way home.  With my mind still processing all the BOV variations I saw rolling around Moab, I managed to drive headfirst into Salt Lake City at the height of rush hour.
By Doc Montana, a contributing author of Survival Cache and SHTFBlog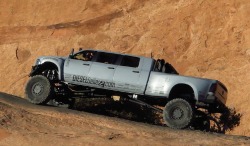 Every lane of the interstate (and there were always four or five) turned into a parking lot for miles in all directions. The usual inept driving of the biggish city caused plenty of "accidents" further slowing the flow of metal and glass. So I had plenty of time to ponder this situation juxtaposed to the wide open escapist mentality I had been living in over the previous week in the Utah desert.
The Cold Hard Reality
If there was a real SHTF event and I did find myself surrounded by thousands of impatient ill-prepared drivers trying to save their families by escaping the city and heading as far away as their half-filled gas tanks will take them, I'd be screwed.  In most cases even if there was room between the cars to pull out of the established current, I would be unable to make any progress by turning hard left or right and leaving the highway. While it was comforting to know that I was just a switch-twist away from low-range 4WD that would instantly turn my family truckster into a tractor, bashing my way off the road was only a start. But then what?  Even if I could drive a mile in either direction in ditch or taking out fence after fence, I would likely just find myself stuck in the muck somewhere else as the later masses fought to enter the interstate fray.
Also Read: Ultimate Survival Vehicle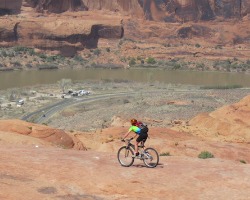 The mountain bikes on my rig were more than ornamental status symbols to impress posers.  They were all self-contained escape vehicles of steel, aluminum, titanium and carbon fiber.  But they are all quite fragile compared to cars.  Just one errant driver could crush my two-wheeled bug out salvation.  And at the moment the highway was littered with errant drivers. Add a backpack and I might as well paint a big target on my back since it will take very little panic to readjust the food chain.

Dreaming of SHTF
In Moab, we had all the time and space in the world to plan our routes, and a dozen other jeeps within a thousand yards constituted a traffic jam.  But now, sitting still on the Interstate completely surrounded by thousands of potential foes, some armed, some stupid, but all soon to be hungry and scared if this situation went Defcon 4.  I let my imagination run wild (it's not like I had anything to do at the moment) and pretended that this situation looked just like every other Friday afternoon traffic jam but about to collectively go postal when real news interrupted the talk radio.  Panic is just one gnawing feeling away. And the moment the first shot is fired or the first accelerator is stomped, the SHTF will go WROL.
After a quick inventory of on-board supplies, I realized that it would be possible to shelter in place for a while, maybe even a week since our water cans for desert travel were still full. Great idea in a blizzard, but not so much in a nervous city filled with opportunistic thieves who will quickly prey upon the miles of intermittently abandoned vehicles.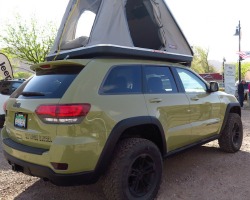 As my GPS gave me verbal updates of the traffic delays ahead, and the highway signage noted the mile markers where accidents closed the lanes, it became clear that bad would have no trouble going to worse in a real SHTF event.  Salt Lake City proper only has a couple hundred thousand people, but the SLC metro area has over 1.1 million human packed in the narrow corridor between the Wasatch Mountains and some large bodies of water, much of it undrinkable.  If this was not a drill, it might start out politely, but panic is contagious, and confusion breeds hot headedness.  The good guys with guns would immediately sort out the bad guys with guns, but soon it would be hard to tell the difference. And it really wouldn't matter where the rubber meets the road.
Also Read: The Vehicle Survival Bag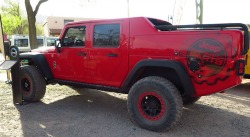 As the iron snake creeped along at ten miles an hour, I considered the humble porcupine.  Speed was not the answer to this charlie foxtrot. Instead the movement out of this rolling deathtrap would be found in steady forward progress with plenty of spiky indicators stating flatly to stay the hell away.  At the start of this mess there will be plenty of easy pickings for those early adopters of crime and anarchy.  I hate to talks so negatively about human nature, but I cannot save 1,100,000 million people. I need to save my family first. Sorry about that SLC, but I'm on my own.
BOV Basics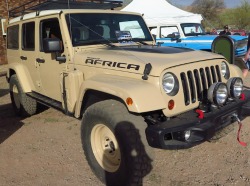 Now I certainly won't make the situation worse, but I will provide any necessary signs that I am not open for business…instead I mean business.  So stay the foxtrot away! But the tough guy image will only go so far, and might be mistaken for one of the bad guys. Where the bug out vehicle comes into play is that it must be able to crawl along over curbs, gutters, tight squeezes, steep hills, and through fences.  The BOV must have plenty of shooting positions so a sunroof, opening back window, full roll-down back seat windows, as well as have plenty of horsepower.  From there, the BOV must be something you can sleep in, as well as have the towing/carrying capacity to carry all the necessary gear over varying terrain.
From there, the BOV can take many shapes and sizes.  The wildly expensive BOVs on parade in Moab were food for thought. And you could go back for seconds plus desert.  There are certainly no perfect right answers, but there are plenty of wrong answers. A family camping trip won't answer all the questions, but it will quickly put things in perspective. So pack your gear and take a road trip. Nothing fills in the unknowns like a mild dose of reality.