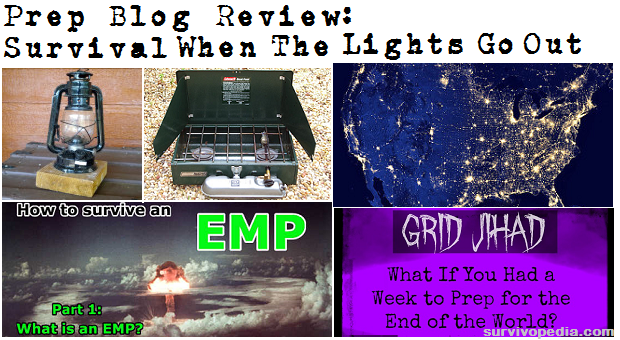 As September 11 approaches we cannot but remember those events and pray they won't happen ever again. Still we can't ignore that our enemies are beheading our own and threaten to take further actions against us.
Events like these make us think even more of the importance of being prepared, especially for an attack on the grid which would mean lights out and back to the basics.
So here's what we stumbled upon this week! Let us know how you feel about this topic and how are you prepping for when SHTF or even just for becoming self-sufficient and living off the grid!
"If the power goes out (grid down) and the electricity is off for a period of time, you will need an alternative method of cooking without electricity.
Even your kitchen's gas stove might require electricity to operate, so it's best to consider multiple ways to cook and/or to boil water.
Here are a few ideas:
One obvious cooking alternative is by way of a wood fire, perhaps with a cooking grate placed over it supported by logs, stones, bricks, etc."
Read more on Modern Survival Blog.
5. How to Survive an EMP – Part 1: What Is an EMP?
"This seems to be a prepper's favorite "Doomsday scenario". Many books have been written about it:
The Going Home series by Angery American
One Second After
EMP: Equipping Modern Patriots: With a Story of Survival
E M P – Struggle for Survival
After The Event (ATE) (Volume 1)
Last Stand: Surviving America's Collapse
and many more
Youtube has hundreds of videos on the subject. The internet is filled with web pages telling you want you should or should not do in case of one.

But how much do you really know about one? How much does anyone know?"
Read more on Gray Wolf Survival.
This article has been written by Brenda E. Walsh for Survivopedia.
About Brenda E. Walsh
Brenda E. Walsh loves nature and all its wonders and has took up gardening as well as canning whatever thrives in her urban mini-garden, being especially interested in herbs and spices. She also loves animals, traveling, walking long distances, hikes and reading. You can send Brenda a message at brenda.walsh [at] survivopedia.com.