If you want fast access to your handguns in your home or automobile but also need to keep them secured from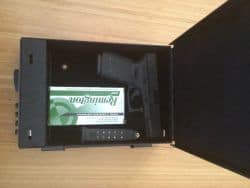 prying eyes or hands, then you should consider owning an individual gun vault.  Securing your guns is obviously important for safety reasons, but have you considered securing your firearms might protect you from criminal negligence charges should they be stolen or misused by someone else?   How about the possibility that your home insurer will be more likely to replace a stolen firearm if it was safely locked up?  And let's not forget that many doctors are now required (groan) to ask patients about firearms in their home.
By Ed, a contributing author of Survival Cache & SHTFBlog
About The Solo Vault 200M

The "Solo-Vault" 200M is Shot Lock's entry into an increasingly crowded field of hand gun vaults.  The 200M differs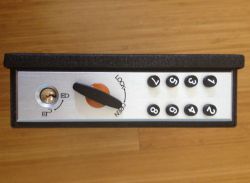 from some other types of vaults in that it isn't made to be mounted between the studs of your walls and hidden behind a picture frame, but instead is intended to be in a more accessible location or even to be a portable safe. For example, you could use the six provided screws to attach the safe to the top of a nightstand, underneath a desk, on the backside of a closet door or it could be bolted in place in your vehicle.  The portability aspect of this safe really appeals to me.  I can safely have my handgun stored in any room in my house or garage.  When in my truck and I need to secure my handgun for those "gun free" zones or when going on hikes where I need to leave my gun in my vehicle, I can secure my weapon (and other valuables) in my safe.  The Solo Vault 200M has port holes that accept up to 5/16" cables to attach your safe to some secure object (I like attaching it to my seat belt anchors).  For added security, instead of using the standard cable gun locks, I use a full size padlock in the port holes and then attach that with heavier gauge, coated wire rope.  An additional use for the Solo Vault could be for the transportation of your weapon on airlines.  Please note that if you're thinking of using this or any other safe to transport your handgun on the airlines, always check with them first as requirements seem to vary from one airline to the next.
The Pros
Right out of the box, the Solo Vault 200M impresses you with its heft, solid construction and finish. It features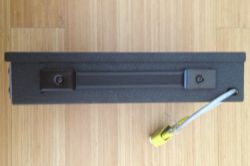 military grade 14 gauge steel construction, reversible left or right opening doors and a flanged, no-pry lid with dual locking hooks. (Sadly, I was not allowed to perform destructive testing on this unit in order to gauge its security so I'll need to leave that to Consumer Reports or some other testing agency.)  The unit's interior (which is felt-lined, by the way) measures 7.25" x 3.875" x 2" which is claimed to hold up to a full sized framed 1911.  I didn't test it with a 1911, but both my Glock 23 and S&W "J" Frame fit in easily with room for an extra magazine and a couple of speed strips.  Attached to the safe is a sturdy, retractable carrying handle – a nice touch that adds to the portability feature that I talked about above.
Unlike the electric version of the Solo-Vault from Shot Lock, the 200M is purely mechanical in operation (EMP Proof).  The good news is that there are no batteries or wires to worry about.  The bad news is that the key pad only provides a "click" when a key is pushed and no visual or other audible feed-back.  Opening the vault with no external light source could take some practice and may lead to key pad errors in a panic situation – choose your combination code wisely, grasshopper.  Operation of the vault requires pushing the aforementioned keys and rotating the open/close lever about 45 degrees.  This operation is straight-forward and the operating mechanisms are solid. Changing the combination is easy enough if you the follow the instructions carefully.
Also Read: PWS MK214 Battle Rifle Review
Note that removing the lock cover necessary for changing the combination requires some gentle prying of the cover
and will not just slide off like the instructions state – that's kind of a testament to the close tolerances of the unit.  The vault comes with a set of three keys for key lock operation – turn the key 90 degrees and rotate the open/close lever as above.  Some folks dislike having key operation because it reduces the security aspect of the vault and the keys themselves must be secured.  That's a valid point, but I personally would rather have a key backup for my senior citizen moments, not to mention the fact that if you do decide to pack your safe in your carry-on luggage, you would need to have the key inserted for TSA inspectors.
The Cons
My only two complaints on the Shotlock Solo-Vault 200M that I tested are that the key lock mechanism was loose and not functional.  While I had the cover off changing the lock combo, I tightened three fastening screws which solved the problem (what – they don't have Loc-Tite in China?).  My other complaint was that the lid, while secure when locked, did not close flush with the base.  I added a foam strip to the interior to prevent it from rattling when driving around with it in the car and to give it a more solid feeling.

Conclusions
What to do with your handgun when it's not on your person can be a vexing problem.  You must strike a balance between keeping your weapon out of the wrong hands while still having it readily accessible when needed.  While a biometric unit may provide quicker access to your gun (that's subject to debate) and a full size safe will provide more security, an individual gun vault provides a more than acceptable compromise between the two options.  In summary, the Solo Vault 200M is well constructed, versatile and provides adequate security with reasonable accessibility at a very attractive price point.  For me, it's a good investment for the peace of mind it provides.
by Ed