Thanksgiving is a wonderful time to be with family and reminisce about years gone by. But let's be honest, it takes a lot of preparation to put together a delectable menu. If you're short on time and need some recipes stat, look no further – this southern girl's got you covered.
Low-fat versions these recipes can be made by omitting the butter and replacing them with light olive oil. As well, reduced fat milk can replace any heavy cream in the dishes. Get creative and make a Thanksgiving meal that your family will boast about for years to come.
 The Menu
Butternut Squash Soup
In European cultures, they begin with a soup to put something small and easily digestible on the stomach before the larger portions of the meal are introduced. The smooth texture of the soup mixed with the surprising taste of ginger will have your guests asking for seconds, so you might want to double the recipe!
2 butternut squash, halved, seeded
1 onion
3 garlic
5 cups vegetable broth
1 tablespoon ginger
Salt to taste
Instructions:
1. Peel the squash, using a sharp vegetable peeler. Cut it in half lengthwise and scoop out the seeds with a spoon. Bake at 375 degrees Farenheit for 45 minutes or until squash is soft. When squash has cooled down, cut it into cubes.
2. Over medium heat, use non-stick spray and coat the bottom of a large pot, add the onion and cook until it softens, about 5 minutes. Add the garlic and cook another 3 minutes. Add the diced squash, water and ginger, salt and bring to a simmer. Cook at a low simmer until the squash is tender enough to smash with a spoon, about 30 minutes.
3. Puree the soup, either using an immersion blender or grinding it in several stages in a regular blender. The soup should be completely smooth and a little thicker than heavy cream. Ladle the soup through a strainer into a clean soup pot, discarding any bits of squash left behind.
4. Heat the soup through once more and season to taste, adding salt if necessary.
5. To serve, ladle the soup into wide bowls and serve with crunchy bread.
Spinach Salad with Goat Cheese and Walnuts
I'm a big fan of having a tasty salad before all the Thanksgiving festivities. This fills up my stomach so I don't overeat and also gives me a healthy dose of spinach.
For Poppy Seed Dressing: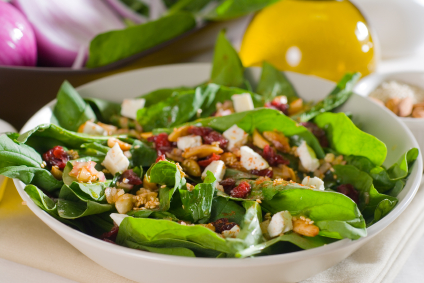 1/3 cup white sugar
1/2 cup white vinegar
1 teaspoon salt
1 teaspoon ground dry mustard
1 teaspoon grated onion
1 cup vegetable oil
1 tablespoon poppy seeds
In a blender or food processor, combine sugar, vinegar, salt, dry mustard and onion and process for 20 seconds. With blender or food processor on high, gradually add oil in a slow, steady stream. Stir in poppy seeds.
For Salad:
8 cups baby spinach leaves, stems trimmed, washed, and dried
1 cup dried sweetened cranberries or fresh pears work well with this
1/2 cup whole or chopped toasted walnuts
1/3 cup crumbled goat cheese
Put all but a large handful of the spinach in a large bowl. Toss with most of the dressing. Add remaining spinach and continue tossing until well coated.
Serve immediately topped with goat cheese, cranberries and walnuts.
Brined Turkey
Brining the turkey is a great way to seal in the moisture of the bird, and at the same time, enhances the flavor. I go a step further a place a cheesecloth dipped in white wine and place it on top of the breast during most of the baking. Trust me, it will make your turkey much moist, even after brining it.
What You Need:
Turkey 10-12 lbs. (the turkey should not be a self-basting or Kosher turkey – if brined, it will make your turkey too salty.)
Salt
Sugar
Seasonings
1 gallon water
Large container (stock pot, 5-gallon bucket, cooler
Cheese cloth
1 bottle of dry white wine
Chicken stock
Preparing the Turkey for Brining: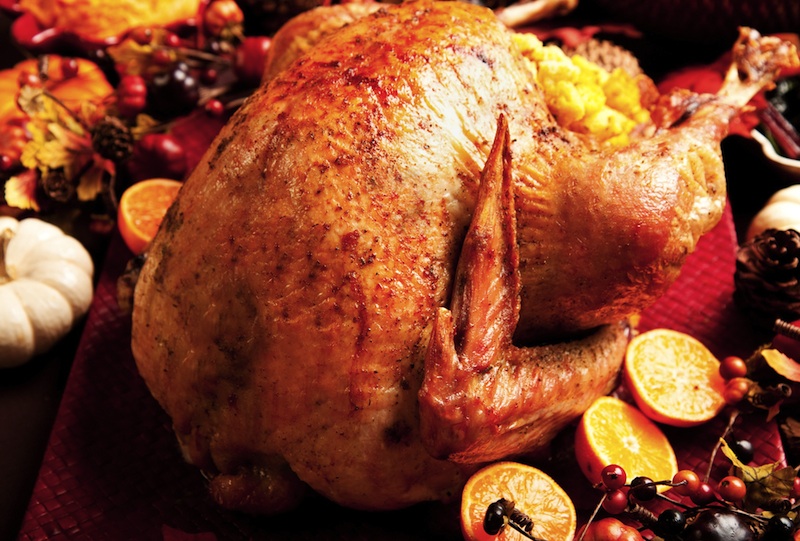 First things first, ensure that your turkey has had time to defrost ( a mistake I have made in the past) and that the cavity is completely cleaned out (a mistake my husband had made in the past). In the large container that the turkey will be brining in, mix 1 gallon of water with the following spices:
1 c. kosher salt
1/2 c. sugar
2 tbls. onion powder
1 tbls. garlic powder
1 tbls. paprika
1 tbls. ground pepper
1 tsp. rubbed sage
1 tsp. ground cumin
Rinds from one orange
Meat thermometer
Trick: One way of telling if you have enough salt in your brine is that a raw egg will float in it. Make sure that the salt is completely dissolved before adding the seasonings.
Depending on the size of the turkey, you may need more water will need more than 1 gallon of water. You will want 1-2 inches of water to cover the submerged turkey.
Set Up:
Place the turkey in the container with the brine and completely cover the turkey with an inch or two to spare. If possible, place the whole thing in the refrigerator. If it doesn't fit in the refrigerator, add the brine solution to a cooler full of ice and allow it to sit for up to 12 hours.
Rinsing:
When you are ready to begin cooking the turkey, remove it from the brine and rinse it off thoroughly in the sink with cold water until all traces of salt are off the surface inside and out. This is the single, most important step. If you don't get the brine rinsed of thoroughly, you will get a very salty bird. Safely discard the brine and cook the turkey as normal.
Cooking the Turkey:
Although I prefer a smoked turkey, this year we are baking it, so here's the instructions for that cooking method:
1. Preheat the oven to 400 degrees F. For a 15 lb. turkey, start the cooking at 400 F for the first 1/2 hour. Then reduce the heat to 350 F for the next 2 hours. Then reduce the heat further to 225 F for the next hour to hour and a half.
2. Make a rub for the turkey and spread it over the turkey using with the following ingredients:
3 tbls. onion powder
2 tbls. paprika
1 tbls. garlic powder
1 tsp. ground pepper
1 tsp. ground cumin
1/2 tsp. sage
3 tbls. vegetable oil or light olive oil
3. Place turkey breast-side up on a flat wire rack in a shallow roasting pan 2 to 2 1/2 inches deep. Note: If your going to stuff your turkey with dressing, fruit, herbs, etc., now is the time to do so.
4. Soak cheesecloth in white wine  and place over cavity of the turkey.
5.Add 2 cups chicken broth and 2 cups white wine to the bottom of roasting pan along with any garlic or vegetables you want to add.
6. Baste the wine/stock mixture in the bottom of the pan every 30 minutes or so to keep cheesecloth moist. Keep the cheese cloth on top of the turkey until the last 30 minutes the turkey is cooking. Then remove from turkey, baste once and allow the turkey skin to crisp.
7. Remove from oven and allow meat to cool for 20 minutes before carving.
Chicken n' Cornbread Dressing
Looking for an easy dressing that comes out moist and savory every time? Check out my sister's dressing recipe- it's so delicious!
4 cups chicken meat, loosely chopped
1/4 cup butter
3 cups diced celery
2 cups diced sweet onions
1/2 cup finely chopped fresh sage
1 pan of cornbread, crumbled
3 cups soft, fresh breadcrumbs
4 large eggs, lightly beaten
7 cups chicken broth
1 tablespoon freshly ground pepper
1 teaspoon poultry seasoning
1. Preheat oven to 400°. Melt butter in a large skillet over medium-high heat; add celery and onions, and sauté 5 to 6 minutes or until onions are tender. Stir in sage, and sauté 1 minute.
2. Stir together Cornbread Crumbles and breadcrumbs in a large bowl. Stir in eggs, next 2 ingredients, and celery mixture, stirring until blended. Divide cornbread mixture between 1 lightly greased 13- x 9-inch baking dish and 1 lightly greased 8-inch square baking dish.
3. Bake at 400° for 45 to 55 minutes or until set and golden brown.
Sweet Potatoes with Praline Topping
This sweet potato dish is a delicious way to pay homage to the traditional Thanksgiving dishes. It's sweet, creamy and oh, so indulgent.
For Praline topping:
(This is Paula Deen's
praline
recipe and it's a good one!)
1 1/2 cups sugar
1 1/2 cups packed light brown sugar
1/8 teaspoon salt
3 tablespoons dark corn syrup
1 cup evaporated milk
2 tablespoons butter
1 teaspoon pure vanilla extract
1 1/2 cups pecan halves
Butter the sides of a heavy 2-quart saucepan.
Put the sugars, salt, corn syrup, milk, and butter in saucepan. Over medium heat, stir mixture constantly with a wooden spoon until sugars have dissolved and mixture comes to a boil. Continue to cook to a soft ball stage, approximately 236 degrees F on a candy thermometer. (If you do a cold water test, drizzle a drop of candy into a glass of cold water, the ball of candy will flatten between your fingers when you take it out of the water.) Remove from heat and allow it to cool for 10 minutes.
Add the vanilla and nuts, and beat with a spoon by hand for approximately 2 minutes or until candy is slightly thick and begins to lose its gloss.
Quickly drop heaping tablespoons onto waxed paper. If the candy becomes stiff, add a few drops of hot water.
For creamy sweet potatoes:
4-5 sweet potatoes, scrubbed with skin still on
3 tablespoons butter
1/4 cups heavy whipping cream
1/8 teaspoon nutmeg
1/8 teaspoon salt
In a pot of hot water, add sweet potatoes (leaving skins on) and boil until soft.
Drain the water and allow sweet potatoes to cool.
With a knife, peel skins off of potatoes. Note: The skins should easily come off.
Add butter and mash potatoes until smooth.
Add remaining ingredients and continue mashing until you reach the desired consistency.
Take pralines (after taste testing them, of course) and crumble them on top of sweet potatoes taking measures to cover the entire dish.
Bake at 350 for 30 minutes.
Cranberry Chutney
This delicious cranberry chutney recipe is as aromatic as much as is colorful. Use this recipe the next time you feel the need to add some color and southern charm to your dinner plate.
1 package fresh cranberries
1 orange, peeled, tough membrane removed, chopped or 1 small can pineapple tidbits, drained
1/4 cup orange juice
2 tbls agave nectar
1 largeapple, peeled, cored, chopped
1/4 cup chopped pecans or walnuts
1/2 teaspoon ground ginger
1/2 teaspoon ground cinnamon
1/4 tsp. cumin
Instructions:
Combine all ingredients in a large saucepan; bring to a boil. Reduce heat; simmer, stirring occasionally, for 5 to 8 minutes, or until cranberries are bursting.
Chill until serving time; freeze surplus in small containers.
Pumpkin Pie with Ghiradelli Dark Chocolate
Want a different version of the age-old pumpkin pie? Try this one. It has a spicy kick to it that will make the crowd ask for seconds.Here is the recipe.
I hope that you enjoy my family's recipes and that you have a wonderful Thanksgiving Day!