It's not that I'm unhappy with my current crop of daypacks, but rather I'm restless. The more I study pack designs and the more I carry them fully loaded across various adventures, the more I refine my taste for certain features as well as open my mind further to innovation.
Just The Right Amount Of Tactical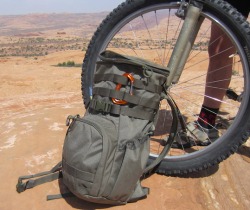 It seems more often than not the tactical packs that make great looking bug out bags are not all that comfortable or even useful, but it's something you won't notice unless you wear it all day long. Now I've carried daypacks that were little more than a shopping bag with shoulder straps, through many forms of the popular Klettersack design, and finally settling on technical climbing and skiing packs for my daypack needs. The fit, load distribution, hydration capabilities, pocket features, and load security of climbing packs is based on not interfering with motion or balance which literally could be fatal. However, the technical packs are not for everyone, and usually a little too finicky for the bug out crowd.
By Doc Montana, a contributing author of Survival Cache and SHTFBlog

So when I first played around with an Eberlestock H3 Sawed Off daypack, I sensed that the good folks at Eberlestock were on to something. The harness system felt like all the right pieces were in all the right places, and the simplicity of the top-loading zipper-lid main compartment was a good compromise between the drawstring and buckled lid design so popular these days. Zippers provide various degrees of closure and are much easier to operate one-handed or with gloves as long as there are oversized pulls.
Paradigm Shift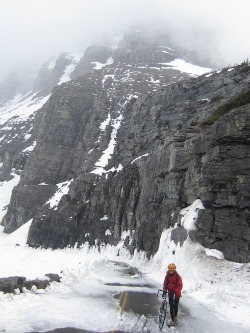 Drawing on his Olympic-class biathlon experience, company founder Glen Eberle began pushing the limits of rifle stocks back in 1985. All was fine and dandy until the terrorist attacks of 9/11. It was that moment in time when the biathlon rifle stock company stood tall and addressed the 21st century needs of professional Americans. As Eberlestock notes, "It is not cliché for us to tell you that the modern form of our company exists as a direct result of the 2001 terrorist attacks on the United States."
What better way to test and produce high-end packs for real humans then to begin from biathlon roots. I've race biathlon and I cannot think of a harder sport to test equipment than a winter endurance event that involves deeply exhausting all major muscle groups sprinkled with intermittent gunfire requiring measured accuracy. I don't know about where you live, but around here kids as young as eight get a chance to ski hard then twice shoot .22s at targets 25m away. And a big thank you to the National Guard boys who supply the rifles, ammo, and cajones to hand rifles all day long to the next generation!
Detail Work
The Eberlestock H3 Sawed Off Day Pack
Overall size: 885 cubic inches
Weight: 2 lbs 8 oz
700 cubic inch main compartment
185 cubic inch secondary compartment
Three liter Source Tactical "glass like™" hydration bladder
MSRP: $129
Comes in five color options
The H3 Sawed Off is the largest of the three dedicated hydration packs offered by Eberlestock that still retain rifle-carry capabilities. The smallest is known as the Mini-Me and the middle-sized one is the Dagger.
Closure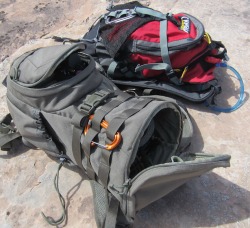 Panel-loading packs, or those with vertical zippers are more at risk for losing the load if either the zipper fails, or user-error fails to zip it completely allowing the entrails to spill out like a serious belly wound. Further, any pair of zipper pulls that meets at the top of their arc are subject to internal forces opening them. Don't get me wrong, I've successfully used panel-loaders on three different continents, but for those opps or adventures leaning on the tactical or envelope-pushing side, I prefer top-loaders. Horizontal zippers like on the Eberlestock H3 Sawed Off are more like securing the lid on a bucket. There is little to no stress on the zips no matter how overstuffed. It's an easy close with a single finger or gloved hand. Once it goes Circle WILLIAM, the pack is secure.

The main pocket holds 700 cubic inches of gear with another 185 in the organizational front pouch. A three liter hydration bladder of unique design is included, however a full bladder will knock out 183 cubic inches of main compartment storage. But not a bad use of space if you ask me. Although the bladder holds three liters or 100 ounces, that does not mean you have to fill it full every time. Most water bottles are in the 16-27 ounce range. Would you carry four large water bottles on your hour-and-a-half bike ride or two-hour hike? If not, then don't feel obligated to stuff as much water into the bladder just because you can.
Also Read: Timbuk2 Aviator Pack
The one-inch strap waist belt is for stabilization only. It won't really bear much weight, but will keep the pack centered and tight against the body. For most activities the strap is not required since the max load of this pack is well within the limits of the shoulder straps alone, however in my test, it's use was essential. For most of the time there are tuck-away pouches on each end where half of the waistbelt can disappear into a hidden recess.
There are four horizontal MOLLE ladders, two high, two low. And one buckle compression strap circumnavigating the upper half of the main compartment that doubles as a major attachment system for accessories. Two over sized side pouches flank the main body each secured with a non-stretchy cord and cordlock. They work well for standard water bottles, and my preference is to use stainless bottles anchored with carabiners to the MOLLE webbing. This small security addition keeps the extra bottles in place even when the pack is inverted.
Full Bladder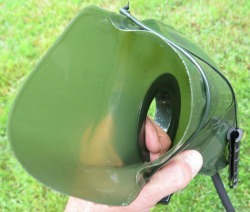 The hydration aspect of this pack uses a special Israeli-made bladder and insulated feed tube. The bladder is a unique "glass like™" bacteria-resistant plastic that I thought was a marketing ploy. But after using the bladder, especially compared to traditional blue Camelbak bladders, the super slick Source Tactical hydration bladder works much better. The bladder has a feature where it's possible to open the entire top of the bladder by sliding off a pinch-clamp allowing cleaning and drying through a comparably huge hole. In fact, I have opted to use the Source Tactical bladder in my Camelbak H.A.W.G. and Arc'teryx Bora when I select that piece of luggage for the adventure De jour.
The bladder has other features including an insulated flow tube, a locking valve, and a tethered mouthpiece cover. Unlike most other mouthpieces, the Source Tactical mouth valve does not require a bite. It slides open and closed allowing unobstructed water flow and free air access during cleaning and storage.
Road Trip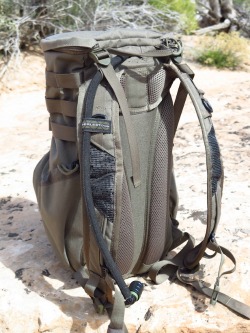 I've used Camelbak hydration backpacks since they were just a corny replacement for water bottles. Once I got over the early stigma of a bubble of water on my back, I found the design and "Hydrate or Die" motto to be the ticket for higher performance. Of course I was not alone since hydration bladders are the the new normal. So normally I would use a Camelbak on any hot desert adventure, but this time I took the Eberlestock H3 on both long hikes and expert-class mountain biking.
Now let me put this out there. I have worn tactical packs on long hikes and been sorely disappointed with how they ride. And I mean sore! Tactical yes. But for long term carry it wouldn't even make my short list. Most "tactical" packs are designed for short-term urban wear, not long-term outdoor heavy carry.  So what better way to test the Eberlestock H3 then to carry it loaded for hours on end, and over one of the most famous and technically challenging  mountain bike trails, the Slickrock in Moab, Utah.
Also Read: How To Choose An Urban Survival Bag
On a quick side note, I managed to hit a cactus lodging a dozen pin-sized but needle-sharp spins into my 29" tire.  If ever you needed the precision of a fine Leatherman over a cheap knock-off where the plier tips don't quite meet, this was it. After a few minutes of wheel surgery with my Leatherman TTi, I was rolling again on the trail still full of hot air.

I also took the Bladder for another spin into a late spring but still winter adventure in Glacier National Park. The valve and waterflow were unaffected, but it will take some sub-zero backcountry skiing to know if the water tube will remain unfrozen and the valve still operable.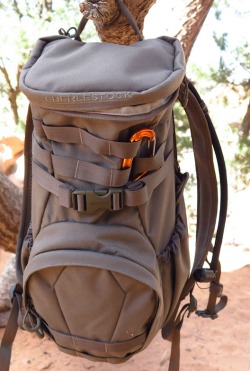 Through it all, I'm happy to report that the Eberlestock H3 performed as good or better than any full tactical daypack, and close enough to dedicated climbing and mountaineering packs. My usual outdoor carries are Arc'teryx, Osprey, and Patagonia. Their fit is honed through serious field testing, and adventures. Unless you've carried a variety of packs, it's hard to know what's acceptable and what's not. Like how the shoulder straps distribute weight. Or the balance of the lower strap/waist belt attachments. Do they stay formed, or cave in under load and collapse the back of the pack?
Also Read: Maxpedition Fatboy Versipack
On the tactical side I have several 5.11 packs and a Maxpedition or two around here. I even had a military issue Camelbak tactical pack but gave it away because it paled in tactical comparison to the 5.11s. Don't get me wrong, it was a good enough pack, but I'm perpetually upgrading my carries. I figure there's always room for improvement.
Sundown
The Eberlestock H3 Sawed Off is a fine bag that will serve even the most discriminating users. The fit, features and durability of the H3 exceeds most other packs in this size range. And the literally bucket-loading ability of this pack makes is a speed demon when you have move fast. Which, when you think about it, should be high priority consideration when leaning towards a tactical pack over a general hiking daypack.  Oh, and in case anyone asks, you say it "Eh-brr-lee-stock."
by Doc Montana