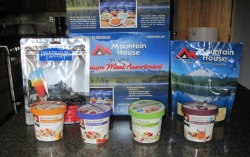 I have been giving this a lot of thought lately, been reading others opinions, and have been using many different items.  I know what I like and will eat, that goes a long way to stocking ones backpack.  Much has been said about stocking your pantry for the future, whatever it may bring.  Stock what you eat, sounds simple, but it is less than simple.  My girls eat fresh and frozen veggies, never canned.  Canned goods last a long time and are pretty mandatory to stock in my opinion, so I also think that if you are really hungry you will eat what's put in front of you.  That's how I grew up, eat it or go hungry no matter how bad it is, and we did.
By Pineslayer, a contributing author to SHTFBlog & Survival Cache

Food for your pack needs a little more thought.  Nutritional value, weight, ease of preparation, calories ( Because you will be burning them up quickly ), and lastly, but very important, taste.  Remember back in the day when Gorp ruled and then was challenged by Power Bars, we have come a long way.  It would be foolish to not look at what indigenous hunter gatherers took with them for the 'road'.  The circumstances have certainly changed since then, but think about the gathering part of it.
Before we delve into various items, I will lay out a few ground rules.  'We' should be looking for food that will stay good in your pack for a year.  Can be eaten without cooking or just add water.  Will give you the nutrition you require to push through to achieve the objective.  It should be stuff that you currently eat, so you can use it and replace it regularly.  Last is affordability.
Alexander Wolfe over at TEOTWAWKI blog said something a while back that stuck with me.  He was looking at pack foods that fit into a category of each ounce needs to have about 100 calories.  I liked the sound of that and have been using that as a benchmark in my purchases.  You be the judge as to if it holds water, but you gotta start somewhere.  As we break down some of my favorites, we will accomplish two things,  I will get a more honest assessment of what I bring and you get to throw out your suggestions in the comments area.  We learn from each other and only get stronger by sharing ideas.
1. Energy Bars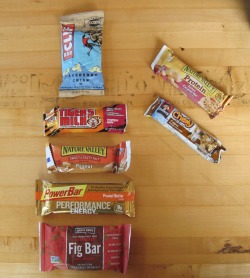 This is a big category.  I mentioned Power Bars early on, gosh did they taste mediocre, but we ate them.  I stock 5 different Energy Bars here, so I will use them as examples.  My favorite is the Clif Bar.
1. Clif Bars – Many great flavors, good story too.  My thoughts are that I could live on Clif Bars and water, for a long time.  Great sustained energy.  My experience with them is that one year is about its lifespan, then they start to get hard and lose a little taste, but never have I seen one go bad.
2.4 ounces    260 calories
Fat 7g   Protein 9g   Carb 41
2. Tiger's Milk Bar – Yummy, girls will eat them, no problem.  Tigers Milk Bars won't stand up to the heat very well due to the chocolate coating.  Not only do you get some good stuff in you, but the morale boost gives it extra credit points.
1.23 ounces   140 calories   Fat 5g   Protein 6g   Carb 18g
3. The Power Bar – Iconic.  Power Bars have improved greatly in taste.  Shelf life is years, if kept fairly cool.  The joke around here is that is might be the best bar to have in your pack, because you will only it eat when you need to and it will always be good to go.
2.29 ounces   240 calories   Fat 4g   Protein 9g   Carb 44g
4. Nature Valley Sweet & Salty Nut Granola Bar Peanut – Just let that soak in.  Nature Valley Bars are amazing tasting decadent savor every bite goodness. They are slightly fragile and have yummy coating that can get melty.  Let's see if they are all talk.
 1.2 ounces   170 calories   Fat 9g   Protein 4g   Carb 20g
5. Fig Bar – Now we move a little to the left.  I found these originally at Costco, big box.  Nature's Bakery Stone Ground Whole Wheat Fig Bars.  They come in Blueberry,  Raspberry, and Fig.  These are more like a cereal bar, just not quite there yet.  Shelf life is a year or better.  As always fresher is better.  Very good taste and texture, like a pastry with nutritious filling.
 2.0 ounces   220 calories   Fat 5g   Protein 4g   Carb 40g
So that is my collection of energy bars.  There are many others that I buy occasionally and would not hesitate to put in my pack or belly.  Lots of good options out there and they seem to give you good bang for your buck.
Jerky
You knew it was coming, no pack is complete without some dried meat.  Remember the first time you bit into a Slim Jim or Teriyaki Beef Jerky, it is like your first kiss, maybe that is pushing it, but it never leaves you, you always want more.  Here are the ones currently tickling my tastebuds.
Pacific Gold Original Beef Jerky made from Top Round Steak.  Some jerky's seem to lose their flavor quicker than others, this ain't one of them.  You might find yourself using this like a dip of Cope rather than jerky.  It really is good and holds it flavor for a long time.  I like to slowly let the jerky re-hydrate in my mouth and savor the spices for as long as possible, also seems to be a little mind game in there making  you think you are eating more than you are.
1.25 ounces   90 calories   Fat 1g   Protein 14g   Carb 8g   Carnivore rating 8 of 10
Impulse buy at the store, Krave Beef Jerky Sweet Chipotle.  Very tender pieces, excellent quality.  Flavor is deep, made in the USA.  I was happy with this buy, but like all good jerky it is pricey, but in the scheme of things, worth it.
3.25 ounces   315 calories   Fat 4.5   Protein 24g   Carb 36g  Carnivore rating 8 of 10
I may have saved the best for last,  Epic 100% Bison Bacon Cranberry Bar.  I have informed the family all I need for presents are these and semi-sweet chocolate bars.  These 'bars' are amazing.  For those who love pemmican, you will really appreciate these treats.  These may be the most expensive price per ounce item in this post, but nothing beats the quality.

Dehydrated Meals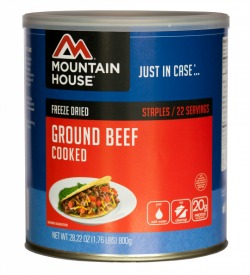 First the bad, maybe the only problem, you need water and heat, most of the time.  That means time and energy.  Don't forget about the smells and light associated with heating water or cooking.  Could you run a cold camp for days or weeks?  You can re-hydrate items without cooking them, add water and wait.  If you are traveling close to water resources, this would be a great way to cut weight.  With freeze dried meals, there are many different options and flavors.
My family bought me these Backpackers Pantry items for Xmas, Spicy Thai Peanut Sauce.  It's sauce over brown rice and veggies, yum.  Now it is meatless so for some of you carnivores it might not sound great, but trust me they are great.  I bet some bunny or squirrel would be a perfect addition.  Let's look at the stats:
8.1 ounces   1000 calories   Fat 52g   Protein 40g   Carb 112g
Those numbers represent 2 servings as indicated on the package.  Cost about $6.  Others ones I stock are Mountain House and AlpineAire.  I buy them whenever I have extra cash or feel the urge after watching the news.  For brevity's sake I will only breakdown one, Lasagna w/Meat Sauce by Mountain House.
4.8 ounces   600 calories   Fat 20g   Protein 35g   Carb 68g
Now these packages say approx 2.5 servings per package and my math shows the whole thing, not per serving.  I guess when it comes down to it, with all the options in this category, let your tastebuds do the choosing.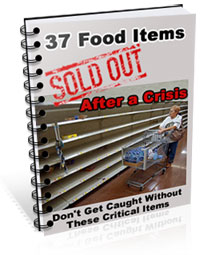 More Options
Hot cereals, oatmeal, and soup mixes all can be had for cheap with good shelf life.  My favorite quick breakfast is Quaker Real Medley's Oatmeal cups.  Add hot water, stir and wait 5 minutes.  I believe there are 4 flavors, maybe 5.  The stats that follow are for the Maple Pecan Raisin cups.
2.46 ounces   270 calories  Fat 7g   Protein 6g   Carb 49g
Now that may seem like small numbers, but I can say from experience that a cup of this can sustain you for hours of hard work.  Price seems to 3 for $5 on average.
MRE's (Meals Ready to Eat)
Careful when buying these, check the expiration dates.  There are many on sites like Ebay that are getting old and their storage has been suspect.  Manufacturers are making civilian offerings, go that route.  They are on the heavy side, but need no cooking, maybe a little heat.  They are also affordable.  I can't comment too much having never eaten them.  I will have to buy some for experimentation.  OK this is getting lengthy, so let's finish up.  The whole point of this post is to show you options that are inexpensive, easy to use and give you the energy you need.  All of the items listed are stuff that I eat, so for me it is easy to rotate them and therefore stock up without hesitation. Most people think of their Bug Out Bags as a 72 hour kit and that is a good starting point for food and water.  A couple more things you should have in your pack to supplement and extend its/your life:
1.  Fishing Kit
2.  Snares or traps
3. Vitamins,  stress will be great, supplements can keep you healthy
More advice, keep your food in an outside pouch if possible.  Little critters can wreak havoc with your kit, so it would be better if they tear into an outside pouch than right through the main area, I know.  Big critters are a different story, bears mainly.  Bear proof canisters, stored up high with a rope,  guarded by you and a rifle 🙂  Don't sleep with your food in bear country, I had to remind you.  Oh yea, Snickers bars.  I don't have the stats because we ate them all.  Share your ideas below in the comments.
by Pineslayer