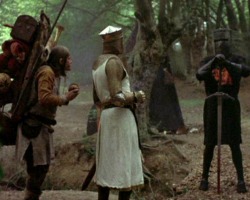 Yea, I know, another BOB post. You have it all squared away, but do you really?  I like to think of my pack as a multi-scenario item. Call it a GHB (Get Home Bag), GOOD bag (Get Out of Dodge) or INCH bag ( I'm Never Coming Home ) or just a plain old BOB (Bug Out Bag). Whatever you have named your pack, it should be able to sustain you well for a few days and if the rules change, keep you alive for an indeterminate period of time. That's a lot to ask of something, but we have the technology and the tools available for not a lot of money.   You just have to be willing to put in a little bit of time and work for you and your family's safety and well being.

By Pineslayer, a contributing author to Survival Cache & SHTFBlog
Number One: What Size Pack?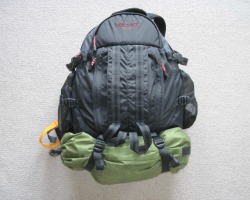 This is my everyday pack. Marmot Talus older version, no frame. Currently it weighs 26-27 lbs with handgun kit, 20 lbs without. Very comfortable and doesn't draw much attention.
With so many variations and styles, it can be a daunting task to find the right fit.  What I mean by that is, does it feel good?  A huge mistake most people make is overestimating the weight they can/want to carry vs what pack they choose.  So this might be more a suggestion than a tip, but it is important.  Packs are rated at cubic liters or cubic inches, this tells you a lot.  It has been my experience that a certain cubic liter translates into a certain amount of weight that a pack can cover comfortably. It has a lot to do with the suspension also, but most packs are built to a certain spec of operation.  So here is my theory, a 35 L pack can carry 30-35lbs good. After that the pack doesn't feel good, but can still carry more, but it just starts to rub you the wrong way. I have found this to be true in the lower ranges of 15-20L, up into the 40-50L size. BTW, we are talking about internal frame packs, or frame sheet on the smaller ones.  So the first question you need to ask yourself is, 'how much weight can I carry, day in, day out'?  Be honest or suffer.  The only certain way to know is to do.  As for the few who can carry 60 lbs or more consistently, that is post for another day.
Number Two: Rig for Silent Running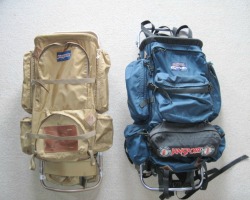 If you need to carry a lot, I believe these are the best packs on the planet. Vintage Jansport D2's, they come in many different configurations, but weighing in at about 6-7 lbs, they are lighter than any pack made today that can haul as much as them. I found the tan one on CL for $25 in perfect condition. They can haul more than you want to carry.
That means, keep your pack quiet.  Noise is never good, unless traveling in Griz country, then traveler beware.  Rattles and clanks can scare off prey, alert predators, and ruin the peace and quiet of nature.  Grab your pack and shake it.  What noises do you hear?   The biggest culprits are cook sets, ammo, loose tools and half full water bottles.  The use of extra bandanas and ranger bands can be the perfect solution since they have many uses other than noise reducers. A piece of ShamWow can serve many purposes.  Think possible signaling device too when choosing colors. Don't forget to use your compression straps.  If for some reason you haven't maxed out your pack, then pull those straps tight to reduce shakes and rattles.  One more reason to keep things quiet is the fact that a quiet pack doesn't have things shifting around messing up your balance.

Number Three: Speed vs Security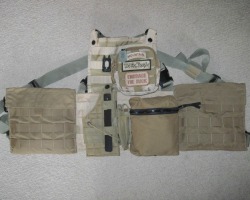 My chest rig, constantly evolving, weighs in at 10lbs with 9mm. It isn't very Gray Man oriented, but it serves a vital purpose and can be rolled up and put in the backpack if necessary.
Maybe this should have been number two.  I don't know where this saying originated, but it is pack gospel. At its core, the saying speaks to the reality of what weight does to your speed and ability to cover distance.  You might be able to carry 50 lbs all day, but can you run with it?  Will you have to jettison all your worldly possessions to stay alive in the next second? This tip should always be in the back of your mind when assembling your kit.  The ultralight community is a good place to learn how to trim weight from your pack.  The biggest single weight additions that will affect your final package, are shelter, sleeping, and cooking items.  This stuff can make or break your back.  Every ounce saved is more food or water you can carry.  We might have to put together a weight chart on this site to compare real world numbers.  Each item could use its own post.  Tiering your stuff and carrying it in varied ways can really make hard decisions
easier and help balance you on the trail.  Tiering is just the system of prioritizing your gear. What pieces do you never want to lose, that's tier one and should be in pockets or on your belt, typically this is called your EDC.  The next tier would be all the stuff that makes life simple. I mean gear that is hard to replicate.  Time and calorie consuming bushcraft stuff.  I am leaning towards a chest rig for at least some of this stuff. By spreading the weight around your body, if done right, you can improve your balance and reduce bodily wear and tear.  Actually I have a set up that is based on the Ranger RACK Chest Rig, I have 10 lbs of stuff, including rig and pouches, and it really does make you walk different. It adds some heat to that area, but it does have a mesh back.  I could do a whole post on chest rigs, but for now you need to give it a thought. Last is a quote that I hope to never forget, "Movement is life" – World War Z.
Number Four: Stay Organized & Keep Gear Secure
Basically, keep your pockets buttoned and zips closed.  When pulling out gloves or putting them back, secure that pocket, never assume that the stuff will not fall out.  I have found many gloves, hats, and other miscellany on the trail because people get tired and complacent, maybe a 2 year old was involved.  Lost gear is worthless gear.   Stuff sacks with cord locks are notorious for coming loose when attached to the outside of a pack.  Tie a slip knot after cinching the cord lock in case that unit wants to slide.
Number Five: Freeze Alert
Colder temps can ruin your batteries, water filters, and burst your water supply.  Try to keep extra batteries and electronic devices close to your body when the temperature drops below 32.  Water filters will always have residual moisture in them and can be ruined if allowed to freeze.  Water bottles and bladders are harder to keep warm. Some bladders can be close to the back and kept liquidity, but those hoses can turn rock hard before you know it. I have some insulated tubes that fit on the hose, it helps, but is far from perfect.  I believe that there is no silver bullet for this one. Drink up your water, take time to replenish, and hope for the best.  Just be aware of the problem and don't get caught with nothing but blocks of ice.
Number Six: Keeping Gear Dry and Flotation
Multi-use item alert!  So if you are trekking through heavy rain or crossing a creek, keeping your stuff dry is very, very important. A pack cover will deal with the rain pretty well and can gather rain water to drink, win-win. All it takes is one misstep during a crossing and in you go.  Imagine your pack submerged and filling with water, what would be ruined or just a big pain to dry out.  Most problems like this can be avoided by a dry bag.  Freezer ziploc's are great too. How about an extra 32 oz Nalgene?  All of these have multiple uses in gathering water, food, kindling, you name it.  Keeping your extra clothing, ammo, and food dry is essential.  As a great lightweight alternative to all of these, I think Aloksak's are worth every penny.  Thank you SullenRonin for turning me on to these.  Where does flotation come in, think about having to drag a water logged pack across a body of water.  Even squished down dry bags and the like, hold air and by default give you buoyancy.  When crossing a stream that is deep enough to sweep you away, take your pack off your back and sling it in front of you or off to the side.  You do not want to go face down with a 40 lb pack on your back holding you down or bashing your head into a rock before you go under.  Think of your pack as a life preserver in these situations.
Number Seven: Storage & Transport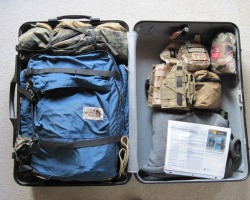 My travel set up with my Go bag. This is the one that will keep me alive if I have to travel quickly. The whole thing weighs 50lbs with luggage, 42lbs of kit. If I am going to carry tent, sleeping bag, and more gear, I will go with one of the D2's.
If you have to leave NOW!, is your sh*t ready?  If you are really into this stuff, you are constantly playing with your gear.  This means that at any time your kit may be spread around the house.  Try and put your toys away when done, I heard a Mom or two say that before.  If you are digging into your pack to exchange or use a piece of gear, put it back ASAP. Replace any consumables immediately.  So one aspect of keeping your gear together and ready to take with you, just in case, on the road, is keeping it together and mask its identity.  We all have a Go Bag and small duffel for extra clothes or what-not, in this house.  Add a pair of boots and weapons and extra food and winter clothing, you have a sizable amount of stuff. I have found that big top zip duffel bags are indispensable.  Being able to throw extra gear in a big bag and throwing it in the trunk is huge.  Even if you can't carry it all when the SHTF, it is nice to be able to gear up and go, consider it a soft sided gear locker.  Traveling by air?  Want to take your kit?  Your mission, should you decide to accept it, is to find a gorilla proof luggage that can hold your stuff and weigh in at 50lbs or less.  This is easier said than done and has consumed many of my hours. I am currently using an old hard-sided Samsonite.

Remember those old commercials with the chimp tossing an American Tourister around in his cage (click here). The downside of the hard sided units is they aren't very forgiving in the expandable area, but they are rugged and lighter than some soft sided units. The search for the perfect piece will continue. Please sound off if you think you have the perfect item. As always, if you have some suggestions, please share them. The best part of posting my ideas is hearing other peoples ideas concerning these areas..These tips might not be the most glamorous, but they can make or break your journey.
by Pineslayer