It would appear that Alex Jones and Dave Hodges were serendipitously working on the same story. Someone who knew that I was releasing this story, today, sent me an Alex Jones' interview, yesterday afternoon. The point being is that two journalists with completely different sources,who have never spoken to each other,  are telling the public the same exact story, with the same exact consequences, it is time to pay attention. As a point of reference, here is the brief version of the Alex Jones video.
If one is willing to spend the time to look, they will discover that many journalists are writing on this topic.
Americans Could Never Be Starved to Death: Unfortunately, It's Happened Before!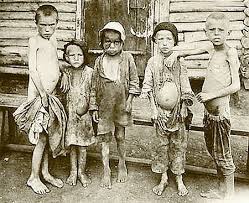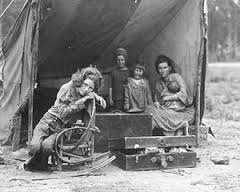 An estimated seven million people starved to death during the Great Depression. And amazingly, these people had food preparation skills that are basically a lost art in America today (e.g. canning).
With a staggering debt looming over the country, how vulnerable are Americans to starvation if and when an economic collapse takes down our economy?

It is not a secret that the world is in a desperate situation when it comes to overall world hunger. The World Bank cites the disturbing fact that there have been 51 food riots in 37 countries in recent memory due to high food prices and the further escalation of food prices has no end in sight. The World Bank further speculates that the present state of food prices could lead to political instability and this is the kind of stuff that wars are made of. And what is the number one cause of rising food prices according to the World Bank? It is the increasing demand (see attached PDF)  for food from a growing population inside of China. The future military implications should be self-evident. But what about the United States? How vulnerable are Americans to the possibility of mass starvation?
A Snapshot of America's Food Vulnerability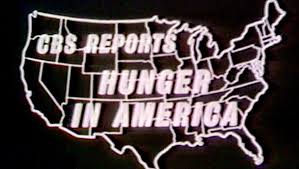 Almost beyond belief, a full 79 percent of the people that use food banks purchase typically buy cheap, unhealthy food and still just have enough to feed their children.  The price of food continues to quickly out-pace the paychecks of most middle class families.  For example, the average price of ground beef has just hit a brand new all-time record high of $3.88 per pound! There are many of you that will protest that these prices are a bargain, and for some, they are!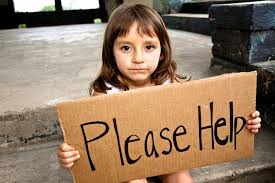 There are  50 million Americans that are dealing with food insecurity in various degrees of distress. Just over one out of seven Americans rely on obtaining food from various banks at one point or another and these food banks are beginning to experience record shortages.
In a case of "defend the nation and starve", military families are feeling even more stress  from not being able to obtain sufficient quantities of food as 25% of America military families require outside assistance in getting enough to eat. What does this say about an administration which uses our soldiers to defend the nation and then kicks them to the curb by denying their VA  health benefits as the government also starves their families because they cannot survive on what we pay our soldiers? This is disgraceful, but it is the Obama fundamental transformation of American way!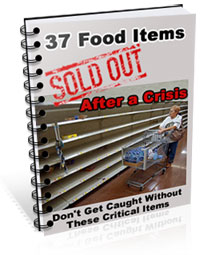 America Has No Way to Keep Up with Food Inflation
This column has repeatedly informed readers that real income in the United States is 8-10% lower than it was in 2000. Real unemployment and under employment, as reported by both John Willliams (Shadow Stats) and Joseph Meyer (Straight Line Money Analysis), as reported on the Common Sense Show, is now at a the staggering rate of 23%! There is no way that the average American can keep up with food inflation. Starvation is a natural outcome of this clear pattern that has been developing for for the past 16 years. The inescapable conclusion is that food will clearly be used as a political tool against the rising spirit of populism emerging as a result of the Independent Media's increased reac as well as the Trump campaign.
In the article, "Food Price Inflation Scares the Fed" the commodity food costs were exploding on the upside. Calculation of the food inflation rate, given the lag in commodity costs impacting prices on grocery store shelves, we find that the annual U.S. food inflation rate is now running at a staggering +22%  (2014) and the rate is now estimate to be over 25%, today. with no end in sight to the escalation.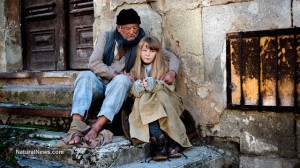 According to the New York Times, the typical American family is now worth 36% less than it was worth only 10 years ago!
The Government Threat
And of course, Henry Kissinger was only kidding when he stated the following: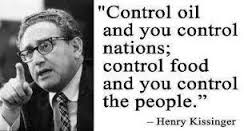 Although it would not take much to push America over the edge with regard to mass starvation, there is  a precedent that the United States government would use food as a weapon against its own people if necessary.
In December, 1974, National Security Council directed by Henry Kissinger completed a classified study entitled, "National Security Study Memorandum 200: Implications of Worldwide Population Growth for U.S. Security and Overseas Interests." The study was based upon the unproven claims that population growth in Lesser Developed Countries (LDC) constituted a serious risk to America's national security.
In November 1975, President Ford, based upon the tenets of NSSM 200 outlined a classified plan to forcibly reduce population growth in LDC countries through birth control, war and famine. Ford's new national security adviser, Brent Scowcroft, in conjunction with then CIA  Director, George H. W. Bush, were tasked with implementing the plan and the secretaries of state, treasury, defense, and agriculture assisted in the implementation of these insane genocidal plans.
NSSM 200 formally raised the question, "Would food be considered an instrument of national power? Is the U.S. prepared to accept food rationing to help people who can't/won't control their population growth?" Would this be done inside of America? Kissinger has answered these questions when he stated that he was predicting a series of contrived famines, created by mandatory programs and this would make exclusive reliance on birth control programs unnecessary in this modern day application of eugenics in a scheme that would allow Henry to have his cake and eat it too in that the world would finally be rid of what Henry Kissinger referred to as the "useless eaters!"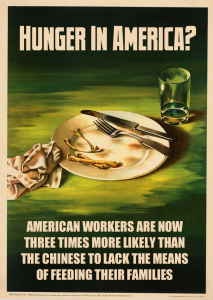 Clear and Present Danger In the Modern Era
Third world population control, using food as one of the primary weapons, has long been a matter of official covert national policy and a portion of President Obama's Executive Order 13603 (EO), National Defense Resources Preparedness is a continuation of that policy. Only now, the intended targets are not the LDC's, but are instead, the American people and after Obama declares martial law, food will undoubtedly be used to subjugate the more resistant regions of our country just as Stalin did to Ukraine.
In recent years the Federal Emergency Management Agency (FEMA) has been regionalizing disaster supplies and rapidly procuring hundreds of millions of ready-to-eat meals, blankets, and body bags. Combined with the DHS' suspiciously massive purchases of ammunition, one has to ask why are the Feds doing this?

In fact, the government has been buying so many supplies and in such large amounts that shortages have affected the world's leading manufacturers to the point they've been forced to suspend shipments to retail customers of survival foods and ammunition on a case by case basis.
This year, Jade Helm 16 has practiced withholding food from select regional areas.
Obama has total and absolute control over all food where his EO states:
e)  "Food resources" means all commodities and products, (simple, mixed, or compound), or complements to such commodities or products, that are capable of being ingested by either human beings or animals, irrespective of other uses to which such commodities or products may be put, at all stages of processing from the raw commodity to the products thereof in vendible form for human or animal consumption.  "Food resources" also means potable water packaged in commercially marketable containers, all starches, sugars, vegetable and animal or marine fats and oils, seed, cotton, hemp, and flax fiber, but does not mean any such material after it loses its identity as an agricultural commodity or agricultural product.

(f)  "Food resource facilities" means plants, machinery, vehicles (including on farm), and other facilities required for the production, processing, distribution, and storage (including cold storage) of food resources, and for the domestic distribution of farm equipment and fertilizer…"
This unconstitutional EO is particularly disturbing in that it clearly states that the government has control over anything that is "capable of being ingested by either human beings or animals…"  If you thought that you and your loyal dog, Fido, were going to get through the coming food crisis by storing and consuming dog food, think again.
How will farmers maintain the nation's food supply when all fertilizer, their farm equipment and all of their vehicles are under the control of this sociopathic  President or the next power-hungry President?
The term "all food storage facilities" includes your refrigerator, your pantry and even the very food in your cabinets as well as what is on your kitchen table. In short, anywhere you keep food is now under the control of the government and can be redistributed.
Planned Starvation In Modern Day America
Were you scratching your head in bewilderment as you watched a couple of years back,  on the news, as the Amish have had their farms raided, raw milk producers have been jailed and the kids running lemonade stands have been shut down and ticketed? Now you know why these abuses are being perpetrated by the government in that it represents a mere conditioning process designed to get all U.S. citizens used to the idea that the government owns all food and food production.
The most clever aspect of this EO is that no Hegelian Dialectic (i.e., false flag event) is needed as a pretense to seize food and imperil survivability. Section 201(b) of the Obama EO clearly states that this EO is enforceable under both "emergency and non-emergency conditions."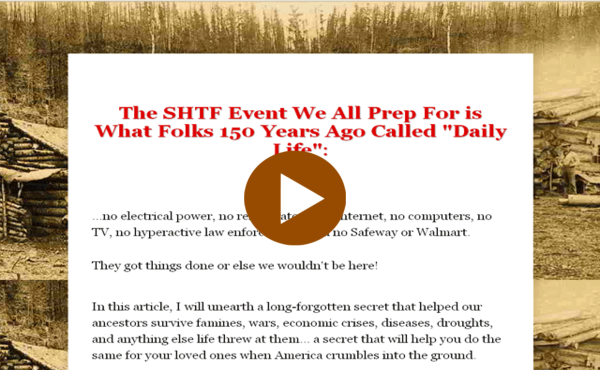 Conclusion
I am leaning toward the belief that there  will be no meaningful election, but there will be starvation.
America is already on the edge with regard to a starvation crisis due to economic conditions alone. An economic collapse, or no shortage of any other kind of disaster, would plunge this country into the depths of unimaginable horrors associated with extreme food shortages.
Some people are shocked and refuse to consider what many feel is the unthinkable. When an economic collapse comes to America, coupled with the nation's extreme food vulnerability, just how desperate will people become?What have you done to prepare?
by Dave Hodges