In the depression, it was common to eat meat no more than once a week, if at all. Some of the kind of meals you might expect were: bread and baked beans, breaded tomatoes (garden tomato sauce on bread – sugar and butter can be added), buttered noodles, cornbread in buttermilk, creamed eggs on toast,  dropped dumplings in broth, fried cornmeal mush (ash cakes), fried egg sandwich (mayo optional), fried egg with a slice of onion, fried eggs on toast,  ketchup on egg sandwich, noodles and tomatoes (onions optional).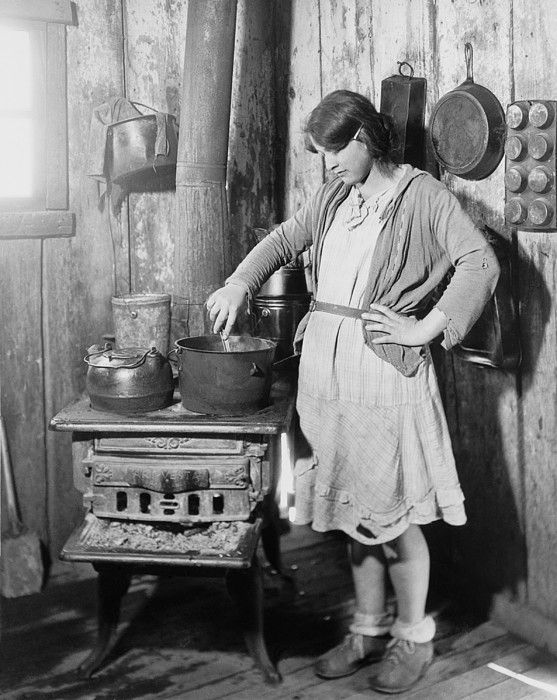 Many depression-era families had access to raw milk from a goat or cow-owner in walking distance who would sell excess milk from the cow inexpensively. Other families grew tomatoes, probably because they preserve so well which can then be stored through the winter.Beans were bought in large quantity (25-50 pounds) from a dry goods store, white flour was bought in 50-pound sacks. White flour doesn't need refrigeration like whole grain flour, can be kept in a cool storage area. That much whole grain flour would have to be kept in the freezer. Whole grains can be kept in a cool storage area if you have a way to mill them into flour when you are ready to use the flour.
The best foods to grow for a depression are tomatoes, cabbages and onions. Buy beans and rice at a dry-goods store, and milk from the nearest cow or goat. Bad as this diet may sound to people used to meat every day, studies have shown that children fed a depression-era diet were healthier than children fed a modern diet high in processed foods, and many children who were fed these depression-era diets loved them, and grew to have fond food memories when they became prosperous, often having a favorite comfort food being a food from their impoverished past.
16 Great Depression Era Recipes-Simple,Cheap and Delicious
1.Chicken and dumplings
Get an old chicken that would be too dry and tough for a roast, put in a pot of water, bring to a boil and then simmer until cooked. Remove chicken and set aside. Make dumplings and drop into simmering water, cook for about 15 minutes. Remove dumplings, add more dough and repeat until you have as many dumplings for however many people you are feeding. Meanwhile, remove the meat from the chicken, set aside skin and bones. When all dumplings have been cooked, return to pot with chicken meat. Use skin and bones to make more broth for more dumplings during the week, or make into biscuits and gravy.
Dumplings: 1 cup flour
1 egg
1/2 tsp cream of tartar
1/4 teaspoon baking soda
2 teaspoons melted butter
1/4 cup milk
Mix until smooth and drop by tablespoonfuls in broth. Cook 15 minutes, covered. Do not lift lid while cooking. Other birds or fowl may be used.
2. Eggless, Milkless, Butterless Cake
1 cup water
2 cups raisins
1 tsp. cinnamon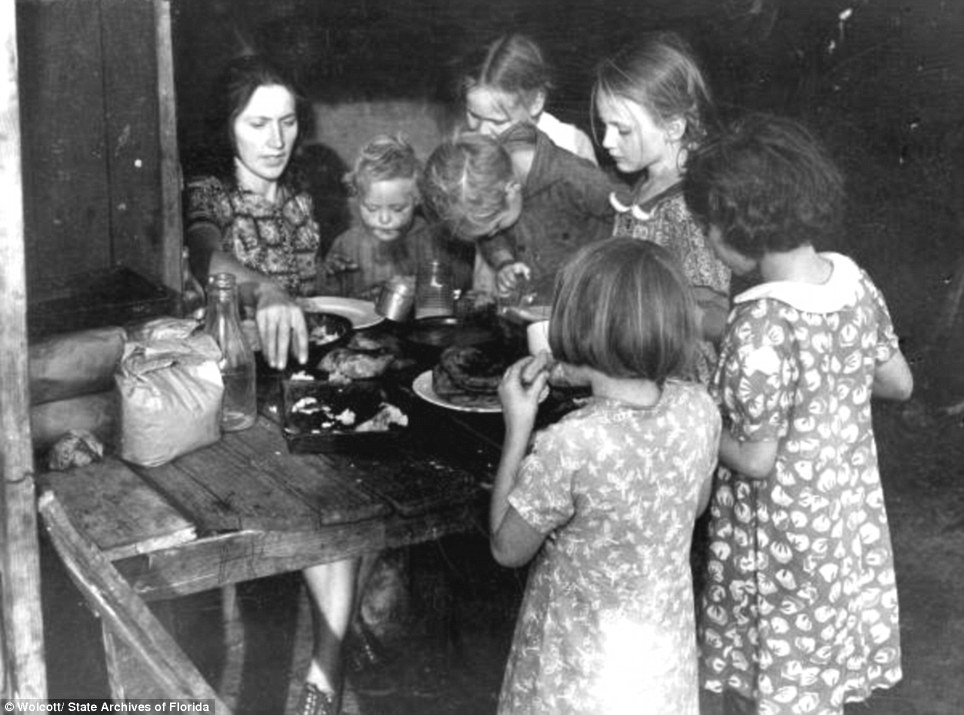 1/2 tsp. cloves
1 cup brown sugar
1/3 cup lard (shortening)
1/4 tsp. nutmeg
1/4 tsp. salt
2 cups flour
1 tsp. baking soda
1/2 tsp. baking powder
Place water, raisins, cinnamon, cloves, brown sugar, lard (shortening), nutmeg and salt in a saucepan and mix. Place on heat and bring to a boil. Cook 3 minutes. Allow to cool, then sift together the flour, baking soda and baking
powder. Stir into cooked mixture.
Place in a greased loaf pan and bake at 350F for one hour.
3.Ash Cakes or Fried cornmeal mush
Mix 1/2 cup of cornmeal and 1 cup of bone broth or water in a glass or ceramic bowl and let set over night. Pat into a bread loaf pan and refrigerate. To cook, slice and fry in bacon grease. Instant cornmeal mush: mix cornmeal and boiling water half and half, shape into patty and fry in fat.
4.Baked beans
Soak beans for at least 24  hours in water with lemon juice, vinegar or whey added. Drain, rinse and drain again. Put in slow cooker, cover with bone broth and simmer at low temperature for a day or until beans are soft. Add extra bone broth if needed to keep beans under liquid. When beans are soft, add some tomatoes or tomato sauce, onions and garlic cloves fried in lard, sea salt, pepper, a little molasses and some cooked bacon or pork with fat on. Continue to simmer on low heat for another day or until all ingredients have blended together.
5.Ritz Mock Apple Pie
The classic pie, featuring Ritz crackers baked in a golden crust, is perfect for the holidays.
Pastry for two-crust 9-inch pie
36 RITZ Crackers, coarsely broken (about 1 3/4 cups crumbs)
1 3/4 cups water
2 cups sugar
2 teaspoons cream of tartar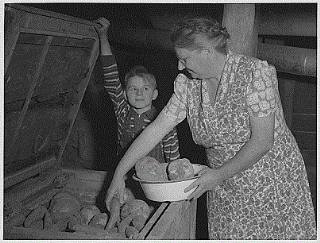 2 tablespoons lemon juice
Grated peel of one lemon
2 tablespoons margarine or butter
1/2 teaspoon ground cinnamon
Roll out half the pastry and line a 9-inch pie plate. Place cracker crumbs in prepared crust; set aside.
Heat water, sugar and cream of tartar to a boil in saucepan over high heat; simmer for 15 minutes. Add lemon juice and peel; cool.
Pour syrup over cracker crumbs. Dot with margarine or butter; sprinkle with cinnamon. Roll out remaining pastry; place over pie. Trim, seal and flute edges. Slit top crust to allow steam to escape.
Bake at 425°F for 30 to 35 minutes or until crust is crisp and golden. Cool completely.
6.Apple cider vinegar
Peel, chop and core the apples. Put in blender with water and blend on high. Strain through a flannel jelly bag and save the juice. Add a few raisins to the apple juice, cover with an airlock and allow to ferment. When the juice has become an alcoholic/hard cider, put a mother of vinegar or a mother of kombucha matrix into it. Cover with a cloth to keep out insects, and then let it set at room temperature for a couple weeks.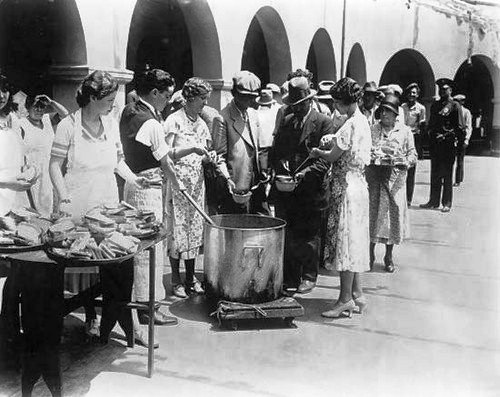 7.Cream/white sauce. To make a creamed anything:
Take 2 tablespoons butter, lard or tallow, 3 tablespoons flour, 1/2 teaspoon salt and 2 cups milk. Melt butter in baked enamel saucepan over low heat. Add flour and salt, stirring constantly until smooth and frothy. Cook about 3 minutes stirring often to prevent browning. Gradually stir in milk. Increase heat to medium and simmer, stirring constantly, until mixture is smooth, thick and boiling.
8.Creamed Eggs on Toast
Take:1 tablespoon butter
lard or tallow,
1 1/2 tablespoons flour
1/4 teaspoon salt
1 cup milk
Melt butter in baked enamel or cast iron saucepan over low heat. Add flour and salt, stirring constantly until smooth and frothy. Cook about 2 minutes stirring often to prevent browning. Gradually stir in milk. Increase heat to medium and simmer, stirring constantly, until mixture is smooth, thick and boiling. Shell and slice 4 hard-boiled eggs. Gently stir into cream mixture and spoon of 4 slices of toast.
9.Crazy Cake
3 cups all-purpose flour
2 cups white sugar
1 teaspoon salt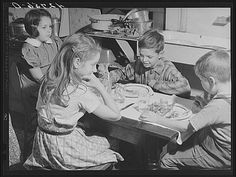 2 teaspoons baking soda
1/2 cup unsweetened cocoa powder
3/4 cup vegetable oil
2 tablespoons distilled white vinegar
2 teaspoons vanilla extract
2 cups cold water
Directions
1Sift flour, sugar, salt, soda, and cocoa together into a 9 x 13 inch ungreased cake pan. Make three wells. Pour oil into one well, vinegar into second, and vanilla into third well. Pour cold water over all, and stir well with fork.Bake at 350 degrees F (175 degrees C) for 30 to 40 minutes, or until tooth pick inserted comes out clean.
10.Creamed Peas on Toast
Make a white sauce (see cream/white sauce below). Add a cup of peas and cook over medium heat. Add salt and pepper to taste. Pour over toast.
11.Depression Era Spaghetti
Boil a pound of spaghetti. Add cabbage slaw or drained sauerkraut when nearly done. Continue cooking until cabbage slaw is done to your taste if that is what you used. Drain and add some chopped chicken and butter. Stir and add some cheese. (If using raw sauerkraut, drain boiled spaghetti and add sauerkraut, chicken and butter. No need to cook further except to heat.)
12.Scrambled eggs with fried potatoes and onions
Slice potatoes and fry in hot lard in a baked enamel or cast iron skillet. Add onions and continue cooking until both potatoes and onions are cooked. Scramble some eggs (you can add pieces of bread to the egg if you want), then add to the potato mix and fry until eggs are cooked.
13.Chicken Soup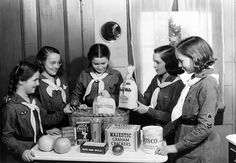 1 clean 3-4 lb chicken.
Place chicken in 2 gallon stockpot with an onion and 2 stalks celery.
Bring to boil and simmer an hour.
Lift out chicken, pull a part and remove bones.
Return chicken pieces to pot and add vegies from garden including at least carrots and potatoes.
Fill pot with water again and bring to boil then simmer till done.
Season with salt, pepper, garlic powder, parsely and chives.
14.Yeast Cornbread
Dissolve 1 pkg yeast in 1/4 cup warm water
Scald: 2cups milk
Pour over: 1/3 cup lard or shortening and 1/3 cup of sugar
Cool and add 2 eggs, well beaten and 1 tsp salt and the yeast mixture.
Mix well and add 4 cups flour and 1/2 cup cornmeal
Pour mixture into two loaf pans at this time and let rise until double. Bake in 350 degree oven for 45 mins.
15.Marinated Onions
Thinly slice 2 onions and separate into rings. Mix the following ingredients (amounts can be varied according to taste):
1 ounce of extra virgin olive oi
1 cup raw apple cider vinegar or extra sour kombucha
1 tablespoon sugar
1 teaspoon sea salt or other full-array salt
1/4 teaspoon pepper
1 tablespoon finely chopped chives
1 garlic clove, chopped and crushed.(Hot pepper optional.)
Put all in a glass jar with a cover and store in refrigerator for at least 1 day. Liquid can be re-used to marinate more onions.
16.Cinnamon Rolls from bread dough
Frozen bread dough for 1 loaf of bread or your favorite 1
loaf bread recipe
1 stick softened butter
3 Tablespoons brown sugar
3 Tablespoons white sugar
1 1/2 teaspoon cinnamon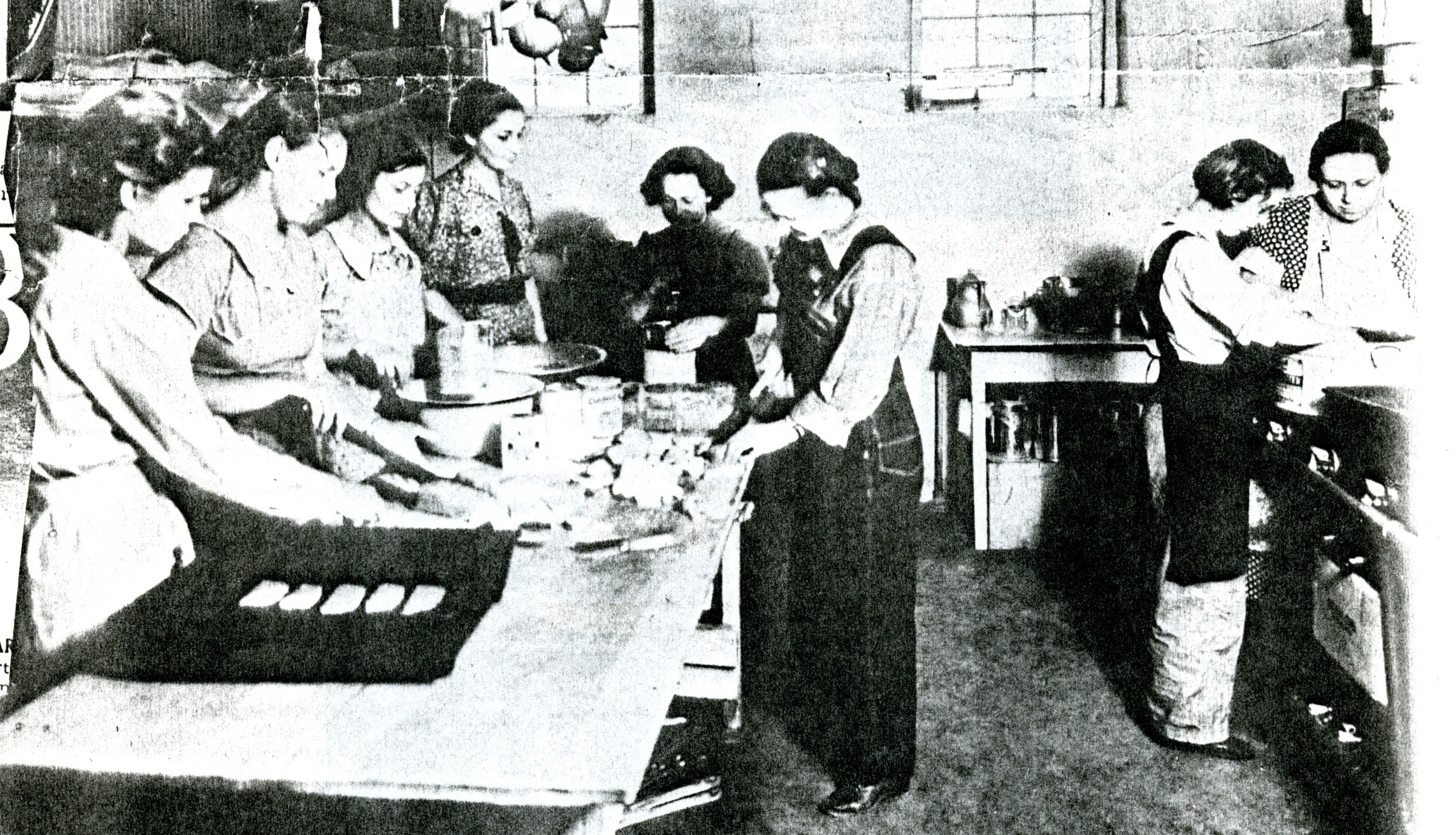 IN PAN:
1/2 – 3/4 stick softened butter
1/4 cup Kero syrup
3 Tablespoons brown sugar
3 Tablespoons white sugar
1 1/2 teaspoon cinnamon
Thaw 1 loaf of frozen bread dough per instuctions.
Punch down and turn out onto a very lightly floured surface.
Pat out into a large square about 1/4″ to 1/2″ inch thick.
Spread with butter and sprinkle with the sugars and cinnamon. (I mix the sugars and cinnamon first.)
Roll up like a jelly roll and cut into 1 1/2-inch pieces.
Place into a pan prepared with a generous greasing of fat. syrup, brown and white sugars.
Place rolls into pan and let rise until double in bulk.
Bake in 350* F. oven, before bread goes in for 15 – 20 minutes.
Top rack may be needed in oven to prevent bottom from burning.
Remove from oven and place pan upside down on clean towel for a few minutes.
Remove pan and let rolls cool before eating.
The Lost Ways

is a far-reaching book with chapters ranging from simple things like making tasty bark-bread—like people did when there was no food—to building a traditional backyard smokehouse… and many, many, many more!It is a guide,

based on three old lessons

, which will help you to go through possible dark times. It will help you with making your own food, which is based on some ancient recipes.

These recipes

were made by our ancestors, and this food was made to be durable, and rich with vitamins and proteins. Literally, this food can last for months and even for years.Watch the video below: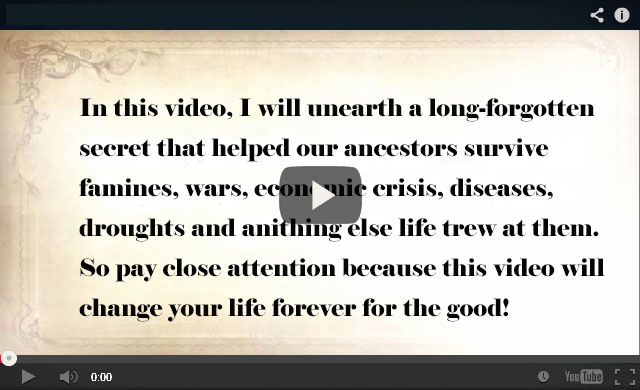 Unauthorized use and/or duplication of this material without express and written permission from this site's author and owner is strictly prohibited. Excerpts and links may be used, provided that full and clear credit is given to The Prepper Dome with appropriate links and specific direction to the original content.
by James Dome