The pioneers lived a rough, dangerous, and demanding life. The men had to be farmers, hunters, trappers, skilled carpenters, and skillful with weapons, especially the rifle. The women did much heavy farm work, raised and cared for the children, cooked, spun yarn, and wove cloth. There were no doctors and medical care had to be improvised. A serious illness or injury often meant death and epidemics were devastating.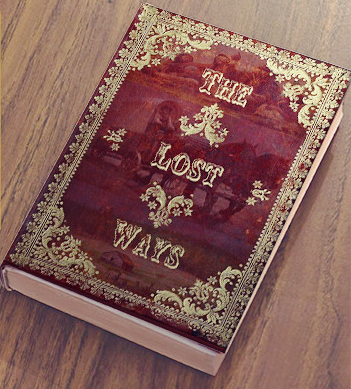 The pioneer diet was simple, consisting primarily of corn and game. Corn was preferred because it could be easily preserved and salt was used to preserve meat. Eventually, as conditions improved, so did diet, clothing, and the availability of other essentials. Pioneers built their own homes (often helping one another in the hard work), grew and hunted their own food, made their own yarn and cloth, bullets, candles, medicines, shoes, and other necessities. In every pioneer house there was a stone pitcher kept especially for the pancake batter.This pitcher was never empty.The batter will have been mixed the night before in this stone pitcher, with a little yeast used for leavening.One third of the batter will be left in the pitcher to "mother" the next batch mixed. Kept in a cool place, the left-over batter will not spoil. If it should chance to freeze, so much the better, freezing will improve the quality of the batter.
Sometimes meat or fish would be served at breakfast, and after the arrival of the bake kettle or Dutch Oven, sweets could be made and served also at the morning meal.
Corn was a common food of the pioneer family. It had to be shelled before it could be ground into meal.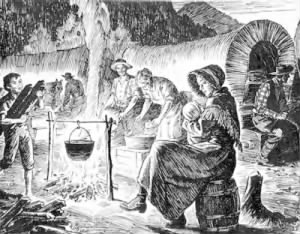 Shelling of corn was a chore for small children. It was often done in front of the fireplace on winter nights. Corncobs were saved to help start a fire and to smoke some meats.
The most common bread was made from corn meal, salt, and water. This was known as corn pone or hoecake. Cornbread was made from corn meal, eggs and buttermilk. It was cooked in the dutch oven covered with coals.
Pumpkins were one of the most useful of the vegetables. They could be kept fresh by putting them in a dry, cool place. Pumpkin was mixed with corn meal to make pumpkin bread. It could be baked whole or mashed up. Staple food for the settlers was the barn and salt pork smoked by hickory log fire, dried beef, wild turkey, wild geese and deer. There would also be dried corn, dried apples, peaches and other fruits would be preserved in huge stone jars. The famous johnny cake, made of flour and corn meal and sweet-dried with molasses or honey and baked in ashes, was used for bread. The cacklin' corn bread, served with hop jowl and greens, was considered a feast.
Guidelines for Storing Meat
In the 1800's people in the West didn't have a refrigerator or freezer to keep their meat fresh, so they used other means.  Below are summer guidelines for storing meat.  Incidentally, we don't recommend your trying these methods today.  They are not that dependable.
Cover the meat with sour milk or buttermilk and store in a cellar.
In areas where the nights are cool, hang the meat in the open from a tree so any breeze can pass around it.  Make sure the meat is brought inside at dawn.  During the day wrap the meat in a tarp and store in a shady place.  Make sure the blow flies don't deposit eggs on the meat.
Keep the meat away from rain and damp nights.  Any meat that gets wet must be cooked or jerked immediately.Fresh meat was cooked by broiling, frying, boiling, and roasting. Meat was preserved by being salted, smoked or pickled. Pork or ham was the most common meat of the mountain people.
Fruits and Vegetables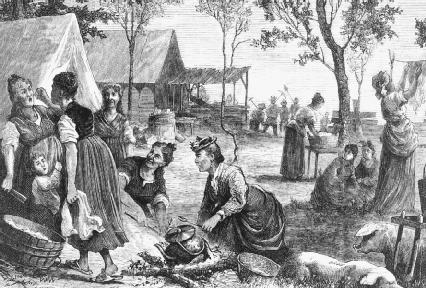 Vegetables and fruits were cooked fresh or preserved by drying or pickling. Jelly could be made from wild grapes and blackberries.The entire family helped with the making of apple butter. Long hours were spent cutting up the apples. Before sunup of the big day a fire was started under a large copper kettle. The apples were added and the cooking began. All day the apples cooked over a slow fire. The apples always had to be stirred, so as not to burn them. By the end of the day, the apple butter would be done and put away in jars for the winter.
Sweetnesses
There was not much sugar in the pioneer's kitchen. Honey, maple syrup and sorghum molasses were used to sweeten foods. Bees were kept in hollow pieces of the tree trunks. The bees made the honey. Maple sugar could be made by boiling down maple tree sap. Molasses was made by boiling down the liquid from mashed sorghum cane.
Pioneer Recipes:
Cornmeal Mush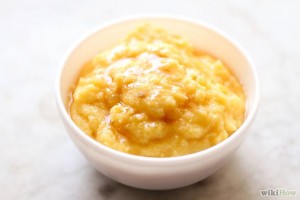 1 cup cornmeal
4 cups boiling water
1 tablespoon lard or butter
1 teaspoon salt
dried currents (raisins) optional
Put currents into water and bring to a boil. Sprinkle cornmeal into the boiling water stirring constantly, adding butter and salt. Cook for about 3 minutes, then portion into bowls. Can be topped with milk, butter, sugar or molasses.
Roasted Rabbit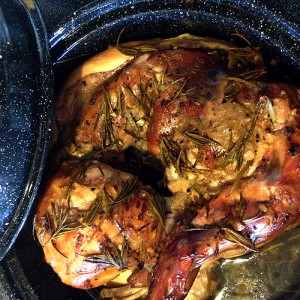 Wash rabbit in cold water, season with salt and pepper. Insert dressing and sew up. Roast at 325°F (160°C) for 1 1/2 to 1 3/4 hours.
Dressing:
| | | |
| --- | --- | --- |
| 1/2 lb | sausage meat | 250 g |
| 2 cups | dried breadcrumbs | 500 mL |
| 1 tbsp | onion juice | 15 mL |
| 1 tbsp | parsley | 15 mL |
| | salt and pepper | |
Source: Boomtown's Second Edition of Women's Auxiliary of the Western Development Museum Cookbook, published in 1966/1967.
Spoon Bread
| | | |
| --- | --- | --- |
| 1 cup | boiling water | 250 mL |
| 3/4 cup | cornmeal | 175 mL |
| 3 tsp | butter | 45 mL |
| 3 | eggs | 3 |
| 1 cup | buttermilk or sour cream | 250 mL |
| 1 tsp | salt | 5 mL |
| 1 1/2 tsp | baking powder | 7 ml |
| 3/4 tsp | baking soda | 4 ml |
| 3/4 cup | flour | 175 mL |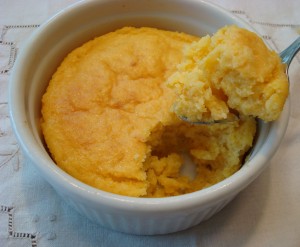 Separate eggs, beat whites stiff. Sift dry ingredients. Pour boiling water over cornmeal, slowly; stir until cool. Add butter, egg yolks and flour mixture alternately with buttermilk to cornmeal mush. Beat well; fold in egg whites. Pat in 1 1/2 quart (1.5 L) baking dish. Bake.
Source: Boomtown's Second Edition of Women's Auxiliary of the Western Development Museum Cookbook, published in 1966/1967.
Boiled Raisin Cake
| | | |
| --- | --- | --- |
| 2 cups | raisins | 500 mL |
| 2 1/2 cups | water | 625 mL |
| 1 cup | butter or oil | 250 mL |
| 2 cups | brown sugar | 500 mL |
| 2 | eggs | 2 |
| 1 tsp | vanilla | 5 mL |
| 2 1/2 cups | silfted flour | 625 mL |
| 2 tsp | baking soda | 5 mL |
| 1 tsp | baking powder | 5 mL |
| 2 tsp | cinnamon | 10 mL |
| 2 tsp | nutmeg | 5 mL |
| 1 tsp | salt | 5 mL |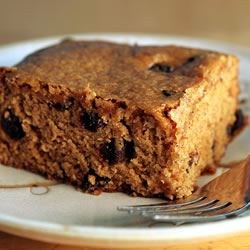 Simmer the raisins and water for a few minutes. Cool. Mix butter, sugar, eggs, and vanilla. Add the raisin juice. Sift the dry ingredients together and add to other mixture. Stir. Fold in raisins. Pour into a greased, floured 9 x 13 inch (3.5 L) cake pan and bake at 350°F (180°C) for 40 minutes. Cover with Caramel Icing.
Caramel Icing
Melt 1/3 cup (75 mL) butter. Add 1 cup (250 mL) brown sugar and boil over low heat for 2 minutes, stirring constantly. Stir in 5 tbsp (75 mL) milk and heat until mixture comes to a boil. Remove from heat and cool to lukewarm. Stir in 11/2 & 2 cups (375 & 500 mL) sifted icing sugar and beat until thick enough to spread.
Source: Canadian Prairie Homesteaders, published in 1979.
Ranch House Stew
| | | |
| --- | --- | --- |
| 4 lb | beef rump or stew meat, cut into cubes | 2 kg |
| 4 | large onions, chopped | 4 |
| 3/4 cup | flour | 175 mL |
| 1 tsp | paprika | 5 mL |
| 1 cup | canned tomatoes | 250 mL |
| 1 | glass beer (optional) | 1 |
| 2 tsp | Worcestershire sauce | 10 mL |
| 4 cups | brown stock or water with beef bouillon cubes dissolved | 1 L |
| 3 | bay leaves | 3 |
| 1 tsp | parsley | 5 mL |
| 1/4 tsp | thyme | 1 mL |
| 2 cups | mushrooms, whole or sliced | 500 mL |
| 1 tsp | salt | 5 mL |
| | pepper to taste | |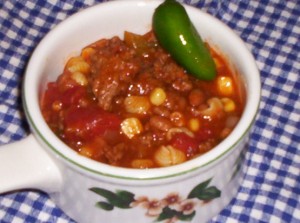 Trim fat from meat. Place pieces of the fat in a heavy pan to render fat. Discard the dried bits. Brown meat in fat (add lard if there is not enough). Remove meat and brown onions. Return the meat to the pan. Add flour and paprika. Stir well. Continue cooking for a few minutes. Add the tomatoes, beer, Worcestershire sauce, stock, bay leaves, parsley and thyme. Cover and bake in a 300°F (150°C) oven or simmer on top of the stove for 3 hours, until meat is tender. Add mushroom, salt and pepper. Pour stew into a 3 quart casserole or two smaller casseroles. Serves 8 to 10.
Source: Come 'n Get it At the Ranch House by B.M. Barss
Johnnycakes
1 beaten egg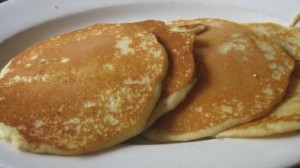 3/8 cup milk
1/2 cup water
1 Tablespoon melted lard (vegetable oil)
1/2 teaspoon salt
1 cup yellow cornmeal
1/2 cup flour
1 Tablespoon sugar
Combine all ingredients and mix thoroughly. Drop by tablespoon onto hot greased griddle or skillet. Fry on each side until browned, about 2 minutes. Serve with butter and syrup. Makes about 12 small cakes.
Stuffing For A Turkey-From an 1888 cookbook
Mix thoroughly a quart of stale bread, very finely grated;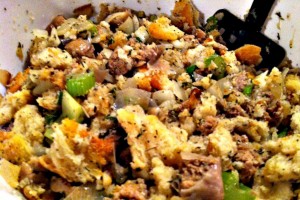 the grated rind of a lemon;
quarter of an ounce of minced parsley and thyme,
one part thyme, two parts parsley;
and pepper and salt to season.
Add to these one unbeaten egg and half a cup of butter;
mix all well together and moisten with hot water or milk.
Other herbs than parsley or thyme may be used if preferred, and a little onion, finely minced, added if desired.
The proportions given here may be increased when more is required.
Corn Dodgers
2 Cups yellow cornmeal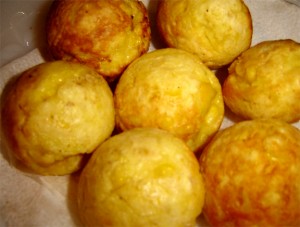 2 Tablespoons butter or margarine
1/2 Teaspoon salt
1 Tablespoon sugar
2 Cups milk
1 Teaspoon baking powder
Preheat Dutch oven to 400 degrees F.
Cook cornmeal in a saucepan with butter, salt, sugar and milk until the mixture comes to a boil. Turn off heat, cover, and let stand 5 minutes. Add baking powder. Spoon the mix onto the Dutch oven in heaping tablespoon-size balls, then bake for 10 to 15 minutes. They are done when slightly brown around the edges.
Molasses Pudding
1/2 cup molasses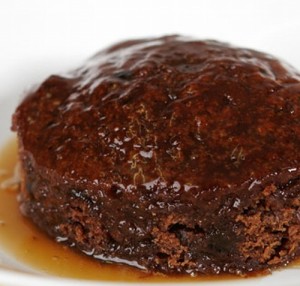 1/2 cup milk
2 cups flour
1/2 cup butter
1 tsp. baking soda
1/2 tsp. salt
raisins, optional
Blend molasses and milk. Add in butter, baking soda, salt and mix well – butter will be chunky. Add in flour, 1/2 cup at a time. Add raisins of you like. Pour this thick dough into a buttered deep bread pan, spreading evenly. Put pan on top of pebbles in a large kettle of slow-boiling, shallow water. Liquid should only go half way up the sides of the pan. Cover and steam for 1 1/4 hours. Serve sliced, as is, or drizzled with syrup.
Vinegar Pie
There were two different kinds of vinegar pie, one without eggs cooked as a cobbler in a Dutch oven, and the one below which is a custard pie.
A most important concern for a cook on the trail was to have items, especially for dessert, that do not require perishable items, and can have substitute ingredients. When the cook wanted to make the pie below, and ran out of sugar, he would substitute molasses, honey or syrup.
½ cup sugar
1 tablespoon butter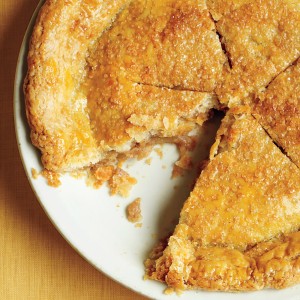 2 tablespoons vinegar
2 tablespoons flour
3 egg yokes (Save the whites for a meringue.)
1 cup water
Line a pie pan with your favorite pie crust. Bake the crust about half done before placing the mixed ingredients into it.
Bake in a slow oven until the custard is done.
If you would like you can use the egg whites for a meringue, but it is not necessary.
Pickled Eggs
Because it was difficult to keep eggs fresh without refrigeration, pickled eggs were a delicacy while on the trail. Once a cowboy got into town, he was able to get pickled eggs at his favorite tavern to add a little solid food to offset the beer and whiskey.
1-cup tarragon vinegar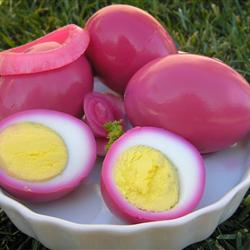 1-cup water
2 Tbs sugar
½ tsp salt
½ tsp celery seed
1 clove garlic, minced
2 bay leaves
12 shelled hard-boiled eggs
Combine all ingredients in saucepan, except eggs. Simmer 30 minutes. Remove bay leaf. Cool. Pour over eggs in a crock or jar. Cover and refrigerate 2 to 3 days before eating.
Sourdough Biscuits
Sourdough biscuits were a delicacy whether on the trail or at the ranch. Once a cook got a good sourdough starter he cherished it like a baby. On the trail he would store it in a dark, cool place in his chuck wagon. Here is one cook's recipe for a sourdough starter.
2 cups of lukewarm potato water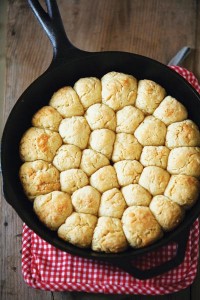 2 cups flour
1 tablespoon sugar
Make potato water by cutting up 2 medium-sized potatoes into cubes, and boil in cups of water until tender.Remove the potatoes and measure out two cups of the remaining liquid. (The potatoes can be used for the evening meal.)Mix the potato water, flour and sugar into a smooth paste.Set the mixture in a warm place until it doubles its original size.
Chocolate Carmels
Below is a candy recipe from the October 23, 1893 Albuquerque Evening Citizen.
Boil together:
a pound of white sugar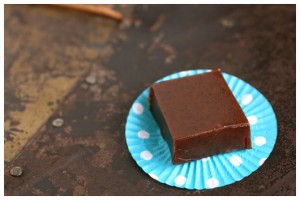 a quarter of a pound of chocolate
four tablespoons of molasses
a cup of sweet milk
a piece of butter as big as a walnut
When it will harden in water, flavor with vanilla and pour on a buttered slab.
When nearly cold, cut in squares.
Red Bean Pie
Beans were a staple of the cowboy's food, particularly when he was on the trail. Beans could be easily stored and they were inexpensive. And although it probably wasn't known, they're also nutritious.
Here is yet another way the cook could feed cowboys beans.
1-cup cooked and mashed pinto beans.
1-cup sugar.
3-beaten egg yokes.
1-teaspoon vanilla.
1-teaspoon nutmeg.
Place combined ingredients in an uncooked piecrust. Bake at 350 degrees for 30 minutes. Make a meringue with the leftover egg whites. Spread over baked pie and return to oven to brown.
Apple Dumpling Soup
1 fresh apple or 1 apple's worth of rehydrated dried apple pieces
2 1/2 cups water
3/8 cups packed brown sugar
1/2 teaspoon cinnamon
1/4 teaspoon ground ginger
Quarter fresh apple, core and slice thinly. Cut rehydrated apple pieces to bite-size. Combine apple slices with other ingredients into 2 quart saucepan. Bring to a boil. Reduce heat to medium and simmer, covered, for 25 minutes. Add 1 tablespoon of vinegar and cook for additional 5 minutes. While apple mixture is simmering, prepare dumpling mixture:
1/2 cup flour
1/8 cup cornmeal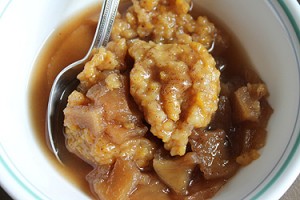 1/8 cup sugar
pinch salt 1 egg
1/4 cup water
In a small bowl combine flour, cornmeal, sugar and salt. Add egg and mixture thoroughly, add water in gradually, stirring sparingly as over-working the dough will make it tough.
Drop dough onto simmering apple mixture by teaspoon. Cover and cook over medium-low heat for 15 additional minutes. Do not remove cover during cooking. To serve, spoon some apple slices, juice and a couple dumplings into each bowl. Will serve 4 to 6.
Kiss Pudding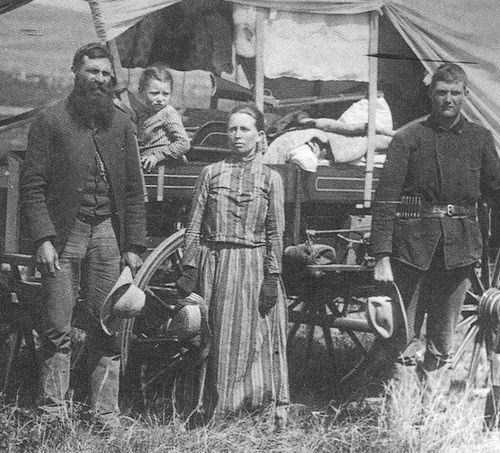 One quart of milk, four tablespoons of cornstarch, mixed with a little cold milk, and five eggs.
Beat the yolks of the eggs with one cup of sugar and the corn starch. Put in the milk and let it boil until it thickens, stirring all the time.
Beat the whites: add a cup of sugar, flavor and spread over the pudding. Brown in the oven.
(From an 1883 Texas Cookbook)
In short, the pioneers lived more simply than most people today are willing to live and that is why they survived with no grocery store, no cheap oil, no cars, no electricity, and no running water.Just like our forefathers used to do, The Lost Ways teaches you how you can survive in the worst-case scenario with the minimum resources available.It comes as a step-by-step guide accompanied by pictures and teaches you how to use basic ingredients to make superfood for your loved ones.

Unauthorized use and/or duplication of this material without express and written permission from this site's author and owner is strictly prohibited. Excerpts and links may be used, provided that full and clear credit is given to The Prepper Dome with appropriate links and specific direction to the original content.
by James Dome